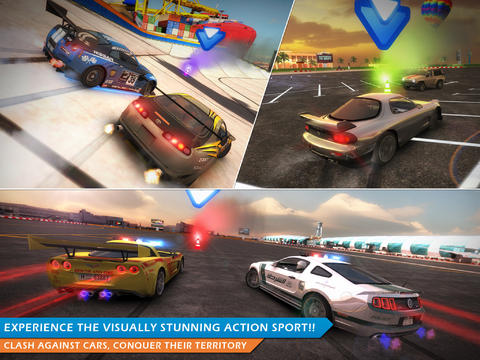 Hybrid is an iPad game developed by FTechnology Games / Dubai Police VTC. If you love racing games, this is a must-try title.
In Hybrid, you can race a wide assortment of cars. Since car variety is sort of the essence of any great racing title, you'll be pleased to learn that you can race in the famous Dubai Police supercars. There are plenty of other exotic, custom made, high-performance cars to play around with as well.
There's also a variety of areas to explore: more than 15 locations, all across Dubai. Even though you're spending a ton of time in Dubai, the game still feels quite varied.
Racing games were tailor-made for the iPad experience, but not every racing game I've played on the iPad has been quite this much fun. Hybrid has amazing graphics, even when tested on an older iPad 2.
This game will also appeal to racing fans who love deep customization. Hybrid offers more than 70 customizable variations, 6 upgradable parts, and car tunning features.
Hybrid also offers the ability to create a driver to compete for you, against your competition. You can manage your team, and then analyze their performance in the race.
Because Hybrid offers multiple ways to play and enjoy the game, this iPad racing game has higher-than-average replay value. Whether you play racing games to get the fastest time, trick out the sickest car, or just kill time while waiting for the train, this appealing racer has got something for everyone.
Whether you're a hardcore racing game junkie or just an occasional player of such games, Hybrid is definitely worth checking out. Few free games feel quite this fun.
Want to learn more? Check out FTechnology Games on Facebook or Twitter.
Hybrid requires iOS 6.0 or later. Compatible with iPad.