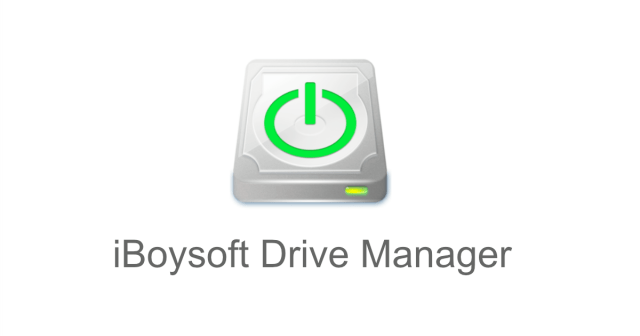 Microsoft and Apple have been one of each other's top rivals for over two decades in technology industry. Even though they have collaborated and have developed products for each other's platform in recent years, I haven't seen any noticeable progress that Apple will make Windows NTFS file system officially compatible with macOS.
For people like me who need to swing back and forth between Windows and Mac platforms using NTFS drives, it is extremely inconvenient.
People often told me to reformat my NTFS drives into exFAT or FAT32 file system that is fully supported both in Windows and macOS. I don't want to do that because I enjoy NTFS file system a lot for its excellent security, compression ability, better support for large disk size, etc.
Therefore, I searched for a third-party NTFS for Mac program – iBoysoft Drive Manager.
iBoysoft Drive Manager
iBoysoft Drive Manager is a handy tool to enable NTFS write support on Mac and help manage multiple external or network drives with a single click.
Mount NTFS drives in read-write mode automatically
By default, Apple has read-only support for NTFS drives. I can view the files saved on the NTFS drives but I can't edit, delete, save, create or rename the files on the NTFS drive. Sharing files between Windows and macOS is also a headache.
Here is how to install iBoysoft Drive Manger and mount an NTFS drive in read-write mode with it:
Step 1: Go to iBoysoft official website and find the product page for iBoysoft Drive Manager.
Step 2: Free download and launch it.
Step 3: Connect the NTFS drive to the Mac after all installations is completed, and NTFS drive will be mounted in read-write mode automatically.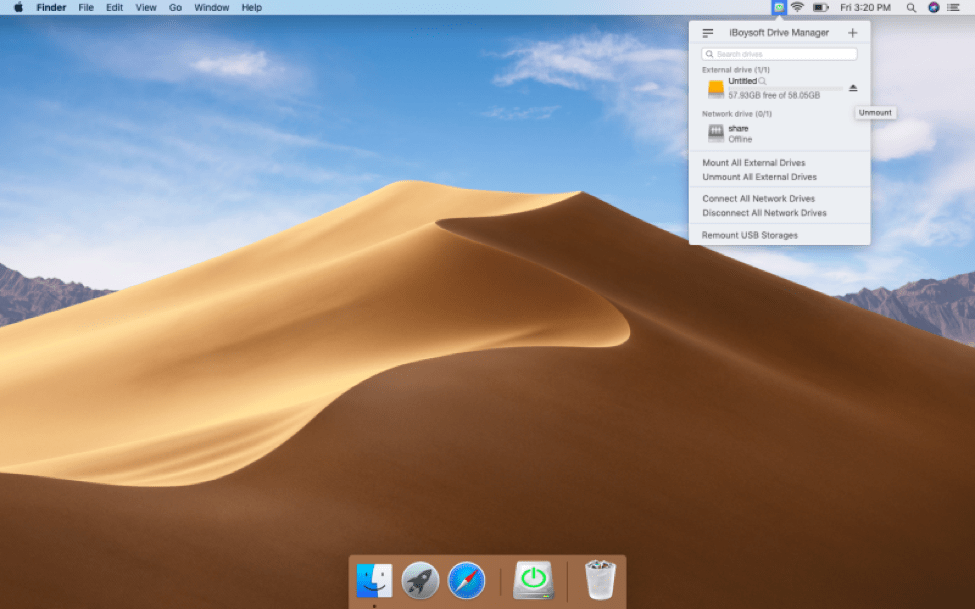 Things went smoother than I expected. Since I have installed iBoysoft Drive Manager on my MacBook Pro 2018, NTFS write support seems to exist natively. I don't feel there are any differences between using a Windows NTFS-formatted drive on Mac and using other drives formatted with the formats that are completely compatible with macOS. The NTFS write and file transferring speed is pretty fast.
Manage external drives
Other than excellent NTFS write support, iBoysoft Drive Manager surprised me with its additional external drive management ability. I have four external drives, including two USB flash drives, one SD card and one external hard disk. In order to test this feature, I connected all of them to the Mac, they were listed on the top-down interface as soon as they were detected. I could mount and unmount all of them with one click or only mount some of them for work. Efficiency was greatly improved. What's more, I noticed the software would safely eject the external drives when the Mac was going to sleep, which can protect the drives from being corrupted.
Manage network drives
iBoysoft Drive Manager supports network drive management as well. It allows users to manually add and map network drives as local drives in the Finder. Also, network drives show up in the top-down interface. They can be connected or disconnected with one single click too.
Bottom line
I have made careful comparisons among different NTFS drivers for Mac. iBoysoft Drive Manager is not only an NTFS write support enabler but also a drive management tool. It is fully compatible with macOS 10.14/10.13/10.12 and Mac OS X 10.11 to 10.7. It should be a must-have software for cross-platform users.
By the way, I tried another program from iBoysoft – iBoysoft Data Recovery for Mac to recover some files after I have emptied the Trash on Mac, it worked beautifully for restoring my data as well. If you are looking for a Mac data recovery tool, it could be a nice choice.