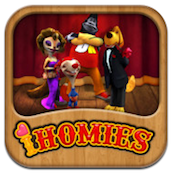 Price: Free Score: 6.5/10 Category: Entertainment
If you've always wanted a group of cute animals to live in your pocket, then we've got just the iPhone app for you. It's callediHomies, developed by AS Mobile Applications GmbH.
iHomies is an app that contains 4 different CGI critters: Don Kong, Mitch, Kyle and Bubi. It's hard to tell exactly what makes them "homies." There's nary a gang member or hoodrat in sight. Instead, there's a dog wearing a tuxedo and a gorilla wearing a pair of Chuck Taylors.
Each critter will say a couple of unique phrases, but you need to pay 99 cents to unlock additional phrases and animations. And that's where the trouble starts.
The entirety of iHomies consists of some animations that last a few seconds, character descriptions, and postcards that you can send to your family and friends via email, Twitter, and Facebook. While it's hard to fault a free app for not offering much content, iHomies seems particularly devoid of cool content.
Now, iHomies is still on Version 1.0, and there is definitely some potential for cool stuff in the future. But for an app that makes so much of four animal "friends," there's no interaction between the animals at all, which seems a bit puzzling. And with so little in the way of animation content, the load time for each character seems a bit strange.
iHomies may be cute, but there's just not enough content in this iPhone app yet to justify paying for the additional unlockables. It might be good for distracting your young kids with for a few minutes, but these animal pals are superficial entertainment at best.
iHomiesis compatible with iPhone 3GS, iPhone 4, iPhone 4S, iPhone 5, iPod touch (3rd generation), iPod touch (4th generation), iPod touch (5th generation) and iPad. Requires iOS 3.2 or later. A small expedite fee was paid by the developer to speed up the publication of this iPhone app review.