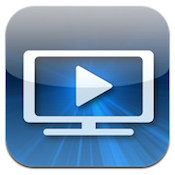 Price: $4.99 Score: 8.5/10 Category: Photo & Video
Streaming media services form a highly competitive sector of the app market. There are good ones, and plenty of bad ones, butiMediaShare, developed by Bianor, is arguably one of the good ones.
iMediaShare.tv bills itself as a way to "transform your iOS device into a remote control seamlessly streaming personal and online media to your connected TV." Boasting the ability to send videos to your internet-enabled TV with no additional hardware, no cables and no other TV apps, iMediaShare gets big points for requiring only a WiFi network (you don't even need an account: you can just start it up and start watching.)
It's worth noting that there is also a Lite version of iMediaShare. However, the full version is worth the extra cash, for two main reasons: the full version offers up an ad-free experience, and also offers additional online video channels in HD. Those channels include Online channels in the full edition include: Animal Planet, CNBC, CNN, College Humor, Dailymotion, NASA TV, NY Times, Showtime, TED Talks (HD), The Onion, Victoria's Secret, Vimeo, and YouTube (HD).
A full list of compatible devices is available on iMediaShare's App Store page, but the list includes televisions from Samsung (w/ AllShare), LG, Sony BRAVIA, Panasonic Viera. Also supported: PS3, Xbox 360, Apple TV, and WD TV.
The design is sleek and seamless, and couldn't be easier to navigate. However, one issue I had during the review was iMediaShare's inability to automatically connect to our local network and media server. Another problem was that the app had a tendency to freeze up when switching between activities, such as shifting from the Photo area back to the home screen.
But despite those issues, I enjoyed the variety of channels that iMediaShare has to offer. Despite some stability issues and the problem with automatically discovering our local media server, I found the overall app experience satisfying.
iMediaShareis compatible with iPhone, iPod touch, and iPad. Requires iOS 4.1 or later.