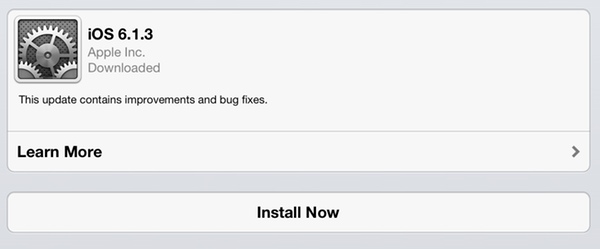 Ladies and laddies, please fire up your compatible iPhone, iPad or iPod touch because Apple has an mobile operating system update for you and you alone. iOS 6.1.3 is here and begs to make your day. What's new? There is a fix for the much commented lock screen hack, Maps improvements and to date undisclosed security content.
Tapscape speculated weeks ago that Apple's next iOS patch would address the lock screen hack and here we are.
As of this writing, Apple hadn't yet posted links to the release notes or security content — the latter will eventually appear here — yet users are nonetheless receiving notifications that it's time to update to iOS 6.1.3
This update contains improvements and other bug fixes including:
— Fixes a bug that could allow someone to bypass the passcode and access the Phone app
— Improvements to Maps in Japan
— iOS 6 and later requires an iPhone 3GS, iPhone 4, iPhone 4S, iPhone 5, Fourth or Fifth Generation iPod touch, iPad 2, iPad 3 or 4 (Retina) and iPad mini.
So, fire up your iThing, get iOS 6.1.3 and then come back to let us all know how it went — did Apple break something new? Did the Cupertino kids fix and issue that's been bugging you? Sound off in the comments below…