Apple's latest iOS 7 version is reaching the 75% adoption mark in North America according to a recent analytic report which can track the iOS version distribution in use.
When Apple publishes a new version of their iOS operating system, there is always a flurry of users installing the updated version. This is because since Apple control the hardware, they can control the experience, and as such know that the supported devices will run it with minimal problems. Consequently, adoption rate tends to be quite high and quite quick, and that's confirmed by a recent analytic report which maps the iOS distribution among devices.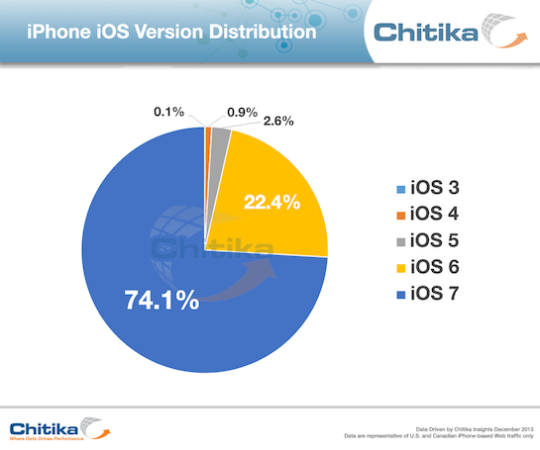 iOS 7 Adoption Rate
Chitika reports that North America currently has a 74.1 percent adoption rate already, only a few months since it was officially announced. The remaining 25.9% of iPhones continue to run an older iOS version: iOS 6 (22.4%), iOS 5 (2.6%), iOS 4 (0.9%) and iOS 3 (0.1%).
The iPad on the other hand is currently running at 63.8 percent of those who have updated to iOS 7 – slightly smaller since it has been out for less time than the iPhone counterpart.
Further stats show that iOS 7 users were generating more than 51% of all iOS-based Web traffic on September 18th, which shows just how significant the climb in adoption has been in the last few months. At this pace, it is likely that iOS 7 will continue to substantially outpace iOS 6 adoption, which reached 83%, and that's probably due to the significant changes introduced in iOS 7 where consumers feel an upgrade would we worthwhile.
Let us know your thoughts in the comments below – are you running an older iOS?