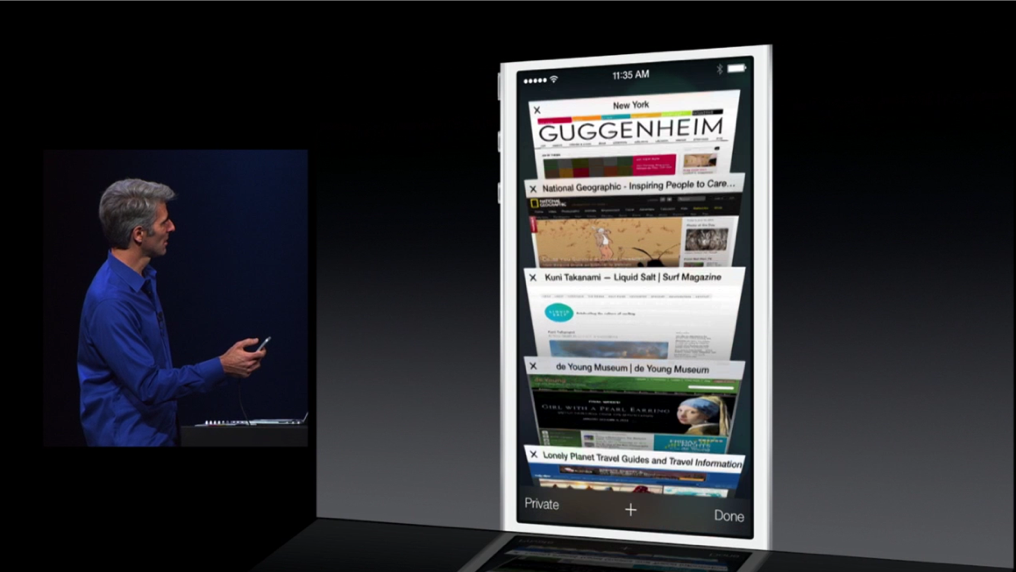 I woke up today to a number of sources claiming that Apple implemented features of both Android OS and Windows OS in iOS 7, what Apple now calls "the world's most advanced operating system." There are those on the side of Android who have said, "Apple stole from Android's ideas," and there are Windows OS fans who have said that Apple also stole from Windows to create what many consider to be a major overhaul to iOS since the iPhone first emerged on the scene in 2007.
There are two sides to consider here, and I want to voice my own view on the subject of whether or not Apple "copied" from other mobile OSes in its WWDC 2013 Keynote.
iOS 7 Borrows But Also Creates
Aaron Souppouris of The Verge writes the following about iOS 7:
Apple's new incoming call screen, which calls on users to 'swipe to answer,' is similar in function to Samsung's TouchWiz, and looks just like Windows Phone 8…aren't those 'motion backgrounds,' which feature circles and lots of soft bokeh, just like the wallpapers introduced by Google in Android Ice Cream Sandwich? The list goes on.
Souppouris is aware of iOS 7's influences and acknowledges them head on; at the same time, he says that Apple is doing nothing different from other manufacturers and producers:
Taking concepts and interpreting them as your own is something all creatives do. It's this interpretation and improvement of ideas that's key. With iOS 7, the question isn't whether Apple's artists are copying or stealing good ideas — it's whether they're doing a good job evolving them.
While Apple's new iOS 7 is "under the influence" of other manufacturers and other OSes, Apple brings its own style to iOS 7 with some of its icons revamped (such as Game Center) as well as its new weather app (that comes with live animations).
As both an iPhone 5 and GS3 user, I can tell you that Apple's new weather application is one I embrace. I really like the clear design and the fact that Apple has placed the live animation into iOS 7 itself — not made it a distinct wallpaper that drains battery life, as is the case with Android. If Apple's weather animation drains battery life, it will do so at the same pace as any other typical app — which is negligible at best.
Cory Gunther of Android Community agrees with Souppouris about Apple's being "under the influence":
We've seen all sorts of rips at Apple today. Some blogs calling iOS 7 the update that turned Apple devices into Android, and all types of crazy stuff. Yes they share features and designs, blatantly rip some off, but who cares? I don't. It isn't just Android. We see hints from all aspects of mobile here, and I feel like the competition is a good thing. At the same time the 'copying' is a validation of just how awesome and successful Android really is. So yes, I'm ok with it.
Gunther is a bit more vocal about his view that Apple "blatantly rip [ped] off" Android, but still agrees that Apple provides formidable competition against Android. I couldn't agree more.
Why Borrowing Matters in iOS 7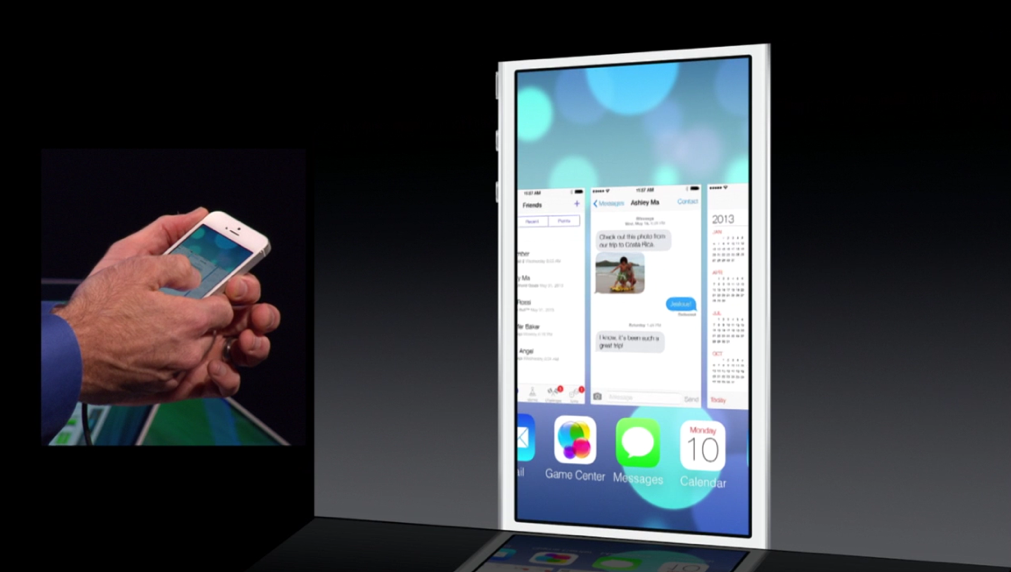 But…you guessed it! There is another angle from which many have failed to view this whole situation.
Yes, it's true that all great companies, including Apple and Samsung, have borrowed from other companies to create great software and hardware. With Android manufacturers this year, LG and now Samsung (with its GS4 Active) have borrowed IP waterproof certification from Sony's Xperia Z and used it in their own devices.
At the same time, Apple is no ordinary company. Last year marked one of the most unforgettable smartphone company lawsuits in all of history, with Apple taking Samsung to court and suing the Korean manufacturer for $1.05 billion (over $2 billion initially). The one claim Apple's attorneys made in court, time and time again, was that Samsung "blatantly ripped off" Apple's designs and Apple wanted compensation for it. While Samsung and Microsoft may never take Apple to court for iOS 7, they have as much right to do so as Apple did last year.
Why does borrowing matter? It matters because Apple sued Samsung and sent the message then that borrowing matters. Now that iOS 7 has been previewed at WWDC 2013, Apple cannot send the message that "it is okay for us to copy others' ideas without penalty" while making Samsung pay billions for its own "copying." If one is "under the influence" and faces no penalty, then all can be under the influence without penalty. If one is wrong, then all are wrong.
In short, borrowing is okay; but it is not okay to send mixed messages about it.