iOS 7 Was Downloaded So Much That Apple Could Not Keep Up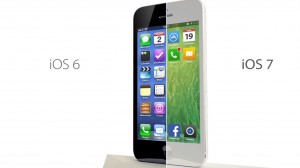 With more than 200 million people already using iOS 7 on Apple's mobile devices, it is obvious that Apple's latest mobile operating system is a hit. However, iOS 7 is so popular that it may have also broken the internet.
According to web security firm Blue Coat:
Based on our data from appliances deployed around the world, in the five days following the release of the iOS update, customers saw a 265 percent increase in Apple.com traffic compared to the five days before.
Blue Coat employee Jeff Brainard went on to tell CNET:
In the five plus years I have been at Blue Coat, I've never seen a file update shake up the Internet like the iOS7 update. Other updates like previous iOS updates, or Windows updates, can be detected as they create spikes, but nothing close to what was seen with iOS 7.
Not only were there tons of people downloading iOS 7, but the download itself was not small by any means. For some people–particularly those upgrading the OS on an iPhone 5–the iOS 7 upgrade file was larger than 1 gigabyte.
Brainard mentioned that while other services that continuously deal with traffic spikes and continuously high traffic, Apple's servers simply were not ready for the massive rush of iOS 7 downloaders,
During the middle part of last Wednesday–when most people were downloading iOS 7–the download time was ridiculously high. With the fast one-day adoption, iOS 7 has now officially become the most quickly adopted iOS version.
One of the other aspects of the iOS 7 update traffic jam that is not talked about as much is the fact that devices can start to download a new operating system without even requesting it. Since iOS 5 came out, Apple's devices have been able to start downloading a new operating system update prior to the user requesting it, in order to make sure that download speeds are as fast as possible.