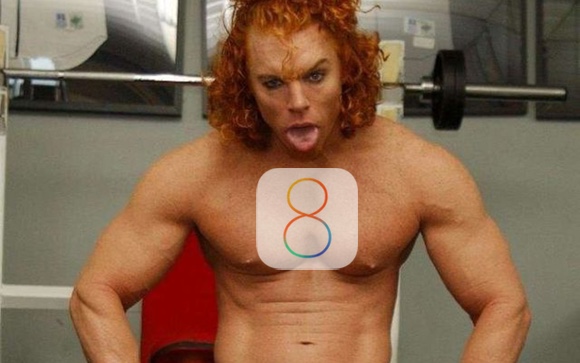 Unlike previous versions of iOS, iOS 8 adoption has stalled South of 50 percent. Generally speaking iOS adoption at four weeks has hit 70 plus percent and is rising. iOS 8 adoption has remained stubbornly low.
What's up with that?
The whiners whinge about unprecedented problems in iOS 8 — really, what? Meanwhile, others cite a iOS 8's (OTA) need for 5GB free space when applying the upgrade and lack of compelling features.
Wired attributes low iOS 8 adoption to the notion that Apple's latest mobile operating system update is is for nerds only (continued below).
iOS 8 Adoption Stalls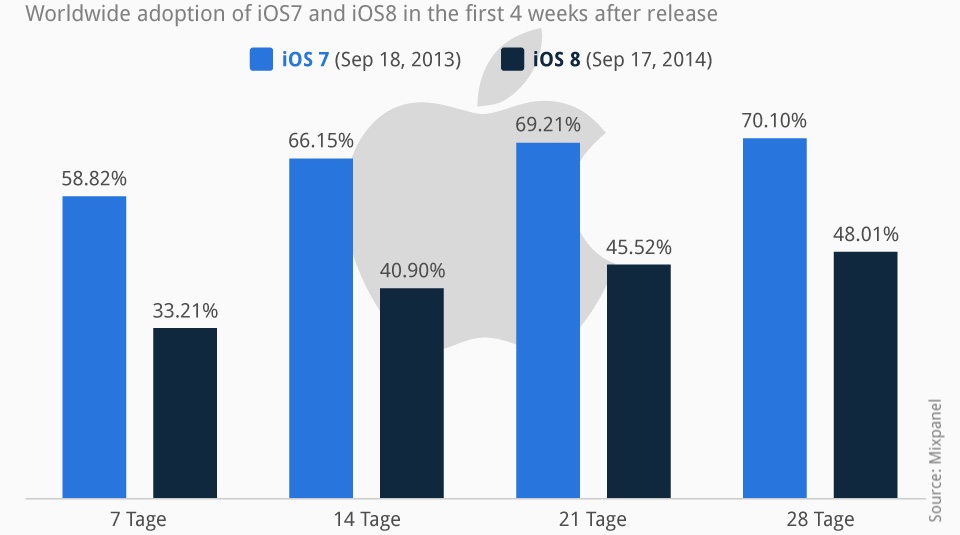 According to data from Mixpanel, iOS 8 is spreading slowly, particularly when compared with its predecessors. While iOS7 powered nearly 60 percent of iPhones, iPads and iPods a mere seven days on from its release, Apple's latest operating system is installed on less than 50 percent of devices 28 days on from its release — Statista
"[It's] a nerd release," says developer Andrew Clark. "Can you think of any non-power-user features that it's worth upgrading for? Home Kit and Health Kit are useless until all the accessory makers get on board. Extensions and third party keyboards are great, but a casual user isn't going to understand or care about them. iCloud Photo Library will be huge but it's in beta and is switched off by default."
All of this angst, however, might be misplaced. iOS 8.1 is expected to be released tomorrow alongside OS X Yosemite, putting in play Hand Off and Continuity, two of biggest features in iOS 8.
Additionally, for those with compatible device, only iPhone 6 and iPhone 6 Plus to start, Apple Pay is expected to live on Saturday, October 18.
Are you using iOS 8 already and having problems? What issues are you, if any, having with iOS 8?