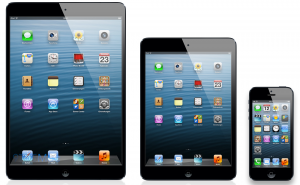 IBM put together a significant amount of data regarding traffic over this holiday season and at least part of it revealed that iOS trumped Android during Christmas in terms of web sales. On average, IBM found that iOS was responsible for five times as many online sales as people on Android devices but the higher amount of sales did not have a correlation with iOS's market share, since Android is still dominant.
What this report truly shows is that although iOS does not have as much control over the smartphone and tablet market as Android may have, its users are far more eager to spend money online. On top of this, the overall trend regarding where this holiday season's sales came from shows that mobile is where companies should be focussing their attention if they want to attract customers.
Out of all the online shopping traffic this season, mobile devices accounted for 48 percent of it which represents a 28.3 percent year-over-year increase, meaning that phones and tablets are only going to become more crucial as time passes and more people decide that mobile devices are more convenient than desktops and laptops.
Smartphones were more popular as a shopping device than tablets, but the tablets also drove a significant amount of sales with the average cost per order being higher on tablets than on smartphones. IBM found that orders placed on a smartphone averaged to $85.11 while orders on tablets were $95.61.
iOS devices drove 23 percent of the total online sales whereas Android was only able to makeup 4.6 percent. Perhaps even more important than how many sales came from iOS devices was the cost per order when compared to Android devices. Unlike the difference between smartphones and tablets which was relatively small, sales placed on iOS devices were twice as large as those that were made on tablets.
The average iOS shopper spent $93.94 compared to Android's $48.10.
Most intelligent companies have known of the mobile trend for quite some time but there is one other shift in the market which is becoming even more prevalent, and that is the effect that social media has on sales. IBM's data found that both Facebook and Pinterest were crucial in this year's holiday sales meaning that if marketers want to reach more customers, they need to have a big presence online and in particular, on social networking sites.