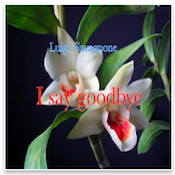 Price: $0.99 Score: 8/10 Category: Books (Family & Relationship Stories)
I Say Goodbye, written and developed by Luigi Savagnone, is a 55 page eBook that's only available for the iPad. I Say Goodbye features lush images along with the story, creating a fun iPad reading experience that is uniquely immersive and wonderfully rich.
Not long ago, we reviewed another of Luigi's fine stories, the iPad ebook Naive Girls. The story of Naive Girls is pretty straightforward: two girls of Italian heritage grow up in Borneo. Despite being very happy there, they decide to travel to Italy. Their transition to life in Europe highlights their personal stories of change, growth, and self-discovery.
The story continues in I Say Goodbye, with Luigi's trademark visual elements: photographs with richly saturated colors and restful imagery. Landmarks in this story include the Doge's Palace in Venice, Vatican City, and outstandingly beautiful museums throughout Italy.
While the story is nice, it is particularly memorable. At least, not when compared to the far more memorable images that adorn nearly every page. The images are beautiful, and nearly all of them are so gorgeous that I just want to print them out as poster size prints and adorn my apartment with them.
If your idea of a perfect ebook is something that balances storytelling with engaging, transporting visuals, you should definitely splurge on this 99 cent ebook adventure. I Say Goodbye by Luigi Savagnone is a lovely travel story that will appeal to any reader who loves stories about life abroad. If you're an armchair travel enthusiast, this story will transport you with its gorgeous photographs.
Requirements: I Say Goodbyecan only be viewed using iBooks 2 or later on an iPad with iOS 5 or later. A small expedite fee was paid by the developer to speed up the publication of this iPad ebook.