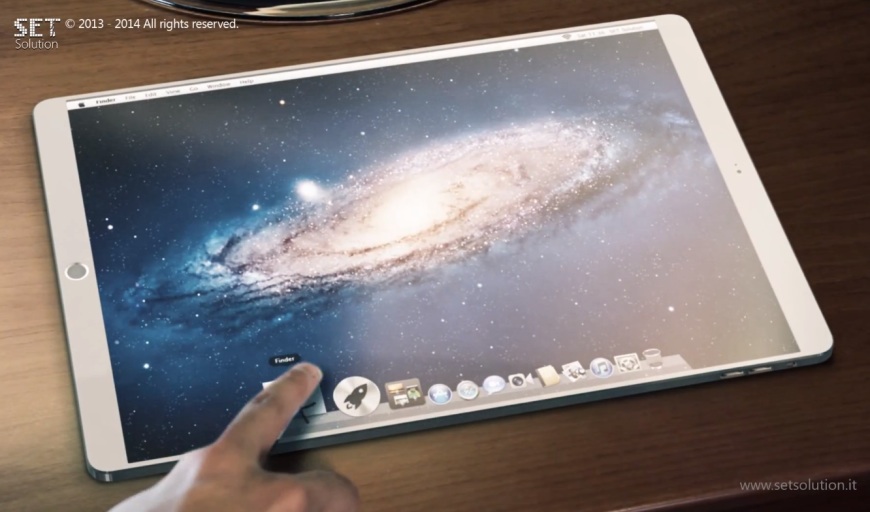 Is the iPad a computer? Yep. iPad mini? Not in my man sized hands. The rumored iPad Pro 13, at least when rendered by these guys, is all computer, running a full version of Apple's OS X desktop operataing system.
SET Solutions, the Italian design house behind these renders of the iPad Pro 13, created a visually compelling product. However, is the iPad Pro 13 with touch enabled OS X something that Apple would actually consider let alone bring to market?
Judge for yourself.
This time we've tried to imagine a new way to work with a tablet. So here there's our CG iPad Pro (13 inches screen) with Apple OS X as operative system!
Now you can take your works wherever you want!
The new iPad Pro is really powerful, with a bigger retina display, and with a desktop OS: all your favourite programs in a 13-inch table… cool, right? — SET Solutions
Fundamentally, a tablet running a full desktop operating system is the mistake Microsoft has been trying to sell, and failing badly, for more than a decade.
iPad Pro No Go
Moreover, Apple has said repeatedly that a Mac is a Mac and an iPad something else entirely. CEO Tim Cook and other Apple executives have stated that merging their desktop OS X and mobile iOS operating systems would be a very, very bad idea.
"It's obvious and easy enough to slap a touchscreen on a piece of hardware, but is that a good experience?" said Apple senior VP of software Craig Federighi. "We believe, no."
Apple senior VP of marketing Phil Schiller piled on with more criticism in saying, "We don't waste time thinking, 'But it should be one thing!' How do you make these [operating systems] merge together?' What a waste of energy that would be."
So, while SET Solutions' iPad Pro 13 concept running touch enabled OS X is visually attractive, it's a product that Apple is highly unlikely ever to make.
Still, will Tim Cook's Cupertino crew make super size tablet? Is the iPad Pro 13 running iOS inevitable?
Via BGR, Source: SET Solutions