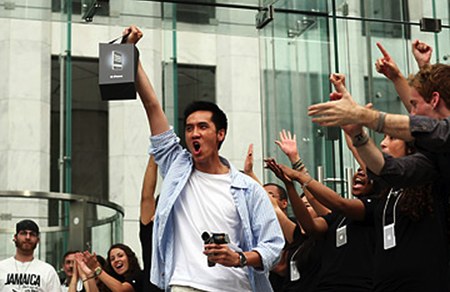 Just about everyone expected Apple's next-generation smartphone with 4G, NFC and a larger, 4-inch display to ship in October. However, changing economic conditions around the world have led to a rethink in Cupertino or so goes the tale told by some of the i-thing maker's manufacturing partners. Are you ready for the iPhone 5 in time for Back to School 2012?
A who's who of Taiwanese component suppliers — including Foxlinkm, Unimicron, Compeq, Largan and Genius — are said to be whispering Apple has pushed up the delivery schedule for the iPhone 5 with manufacturing to ramp up in July and product expected in stores during August.
"With the European debt crisis overshadowing the busy season for consumer electronics in the third quarter, Apple has decided to advance the launch of iPhone 5 to tap business opportunities," writes Philip Liu of the China Economic News Service (CENS) in Taiwan. "Industry insiders noted that the supply chain for iPhone 5 will begin to activate in July before expanding shipment in August — Apple has called for suppliers to speed up shipment, overstraining the status of delivery."
The write up goes on to detail a number of under-the-hood changes — shift to in-cell touch panel, wiring type, new power amplifier — that the iPhone 5 will come to market with. Additionally, CENS echoes things we already knew about Apple's next-gen smartphone, including a thinner, longer form factor featuring a larger display and 4G connectivity.
Tangentially sourced Apple rumors out of Taiwan are nothing new. However, with Microsoft readying Windows 8 (desktop) and Windows Phone 8 releases for Fall release, who would be surprised if Apple force marched the iPhone 5 out in August just to steal Redmond's thunder…
What's your take?
Image Know Your Mobile
Monsieur Le Bloggier — Viva le difference, viva le Mac.