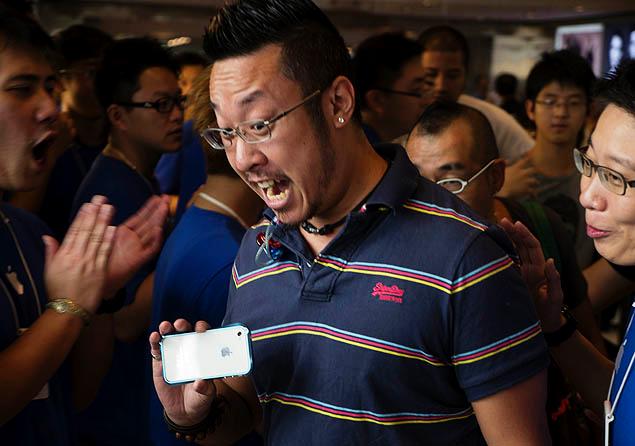 No matter how good the news, there is always a way to spin it negatively, especially when the news is about Apple. For example, rumbles of production cuts underscored by vendor discounts (i.e. Best Buy, Walmart, etc) have led some to speculate that iPhone 5c isn't selling well, which could be a non sequitur.
Back in July, Tim Cook said emphatically that high-end smartphone growth was anything but over — "I don't subscribe to the common view that the higher end, if you will, of the smartphone market is at its peak. I don't believe that."
Well, as Apple basks in the glow of 9 million first weekend sales, we get confirmation of Tim Cook's belief. All Things D, quoting Consumer Intelligence Resarch Partners (CIRP), reports that 64 percent of those millions were the iPhone 5s while 27 percent were the iPhone 5c.
See? It's not that the iPhone 5s is selling well or that Tim Cook was right to say high-end smartphones are still very much a thing, because the real news is the iPhone 5c fail.
But, is it? Let's break it down.
It's believed that Apple halved iPhone 5c production from 300k to 150k units per day. Whereas that seems significant, it bears remembering that a 150k per day run rate amounts to 12.5 million per month and 54 million a year.
Moreover, there's no way to know how many iPhone 5cs, which is thought be to be easier to make, before the multihued smartphone went on sale on September 20. And, of course, Apple could make more later.
iPhone 5c Failing Up and Fast
Regarding vendor discounts, with the iPhone 5s in short supply, isn't it telling that Best Buy, Walmart et al would rather discount the iPhone 5c rather than sell customers an Android or Windows Phone?
"The relative performance of all three iPhones is generally in line with the performance of the similarly priced phones following the launch of the iPhone 5 in 2012," said CIRP co-founder Josh Lowitz. "Over time, the lower-priced phones have tended to gain share versus the flagship phone, after the initial rush of dedicated upgraders to the newest device. So we expect that the 5c will account for a higher percent of total U.S. iPhone sales in the coming months, but the design changes may alter that dynamic. The iPhone 5c may appeal to different buyers than the legacy 4S did last year, or the new 5s will this year."
There's that, too — CIRP says iPhone 5c sales are inline with last year. So, aside from a whole lot of good news for Apple, nothing going on here…
What's your take?