Product leaks isn't something that the iPhone 5C has been short of. We even knew most of the internal components and specs before the name was even discovered. However, the existence of the device is, and will be until the September 10th event, unconfirmed.
On the way to proving the iPhone 5C is real and will be released shortly is a nice picture from a probably ex Pegatron Employee, which shows multiple iPhone 5C's being product tested.
The employee said:
"The low-end iPhone 5C to be launched for Chinese consumers in September doesn't look much different than the Xiaomi Phone 2, right?"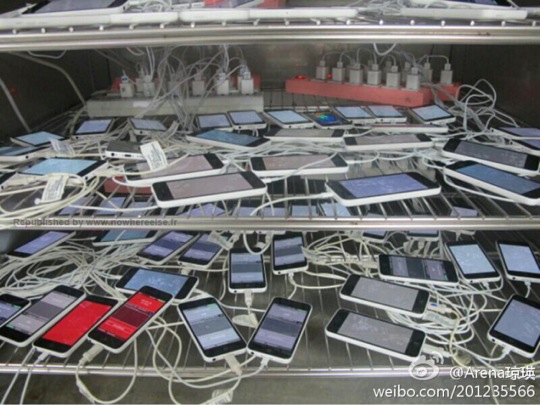 No further details were offered as to what is actually going on in the image, this appears to be a warm-up procedure (likely just with small batches for quality control) to make sure the devices are fully functional before they are boxed up.
The shot appears to have come straight from Pegatron's Shanghai plant directly from the production line, so it appears these are not just knock-off clone devices of the iPhone 5C, but in fact the real deal.
iPhone 5C Confirmed
It does therefore appear that this image correctly shows an (or multiple) iPhone 5C devices and what they look like, which ties in nicely to the various leaks we've been seeing. The iPhone 5C appears to have the same plastic clam shell design we've been seeing leaked, and sport a similar form factor to the iPhone 5, whilst also featuring iPod-inspired curved edges.
It ticks all the boxes, so it seems the cat is out of the bag as far as the iPhone 5C goes. But for the ultimate confirmation, we'll all have to wait for the event on September 10th where Apple are expected to reveal the iPhone 5S, iPhone 5C, and iOS 7.
Let us know what you think in the comments section below.
[Via Engadget]