With WWDC 2013 being only around the corner, and despite the iPhone 5S not expected until September, it hasn't stopped further iPhone 5S leaks surfacing. If recent reports are anything to go by, it seems Apple may be planning on offering a golden iPhone 5S.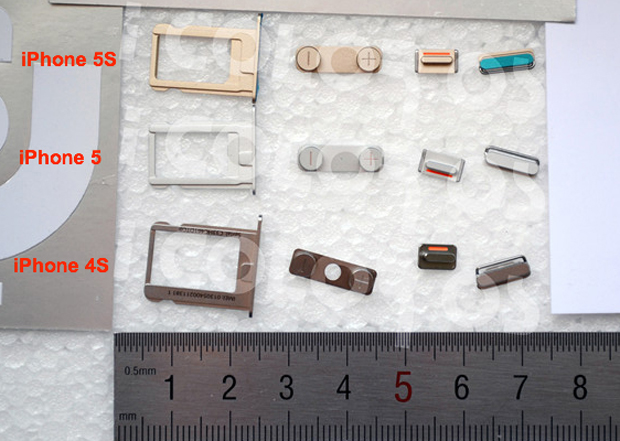 That is if the above pic is anything to go by. Coming from a Chinese Media site, the component leaks show off a golden SIM tray, as well as volume rocker, mute button, and power button, together with their current counterparts on the existing iPhone models.
iPhone 5S – S For Something Gold?
Whilst it is completely possible Apple is planning on splitting from their usual black and white offerings given the colourful options seen in the iPod Touch lineup, the components leaked in the picture could easily be faked, or be from a cheap knockoff product.
Tim Cook has confirmed that we'll not see any new hardware in the autumn so it is unlikely the iPhone 5S will debut at WWDC 2013, but recent reports have already suggested that previously. So the rumoured gold iPhone 5S is something that will stay just a rumour for the time-being with unfortunately very little evidence to support the leak components claims of such a device even existing.
A gold iPhone 5S is an option that it seems Apple would consider, as it's a fairly minimalistic color which would tie in with Apple's current offerings, but it also does ooze a more premium persona and something only top-end celebrities would rock – so is a gold iPhone 5S Apple's way of bringing a celebrity look to the general public?
If a gold iPhone 5S is truly in the works, would you consider purchasing such a device, or would you be sticking with the standard black or white iPhone 5S? Drop us a comment in the comments section below.