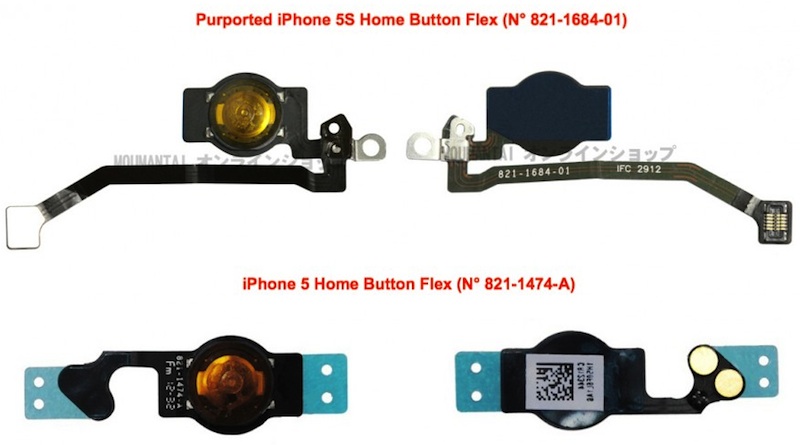 With an iPhone 5S release date expected sometime in Q3 of this year, the Apple rumor mill is well and truly beginning to heat up. After months of speculation, the first credible iPhone 5S parts leak has been posted online by French-language site Nowhereelse.fr.
No Evidence of Fingerprint Sensor in iPhone 5 Parts
The iPhone 5S parts are allegedly from Moumantai, a Japanese vendor that stocks components for a number of mobile phone brands. So far, images have appeared for two iPhone 5S parts – the home button and vibrator, both with flex cables attached. Directly comparing the iPhone 5 and iPhone 5S parts, there are few differences to be found. The flex cable which connects the home button to the smartphone's logic board isn't seen in the iPhone 5 home button image.
Notably, there is nothing seen to suggest any of the rumored biometric fingerprint sensor technology that Apple are reportedly developing to secure mobile payments. However it is also extremely difficult to confirm that these are indeed legitimate iPhone 5S parts. The iPhone 5S may launch with a fingerprint sensor, but it won't be clear for some time.
The iPhone 5S is not expected to feature any changes to the overall design of the handset, but will rather feature a minor bump in processor speed and camera megapixels, as with other previous "S" model updates. Major changes in both form and function are likely to occur with the release of the iPhone 6, which won't be happening until 2014.
Do you think these are real iPhone 5S part leaks? What changes do you think we'll see when the new iPhone launches later this year? Is an iPhone 5S fingerprint sensor likely? Let us know in the comments.