Just because the event where Apple are expected to release their iPhone 5S is only a few hours away doesn't mean the leaks stop. It has been long expected that the iPhone 5S will feature a fingerprint sensor and an alleged new photo has emerged which refers to the sensor as "Touch ID".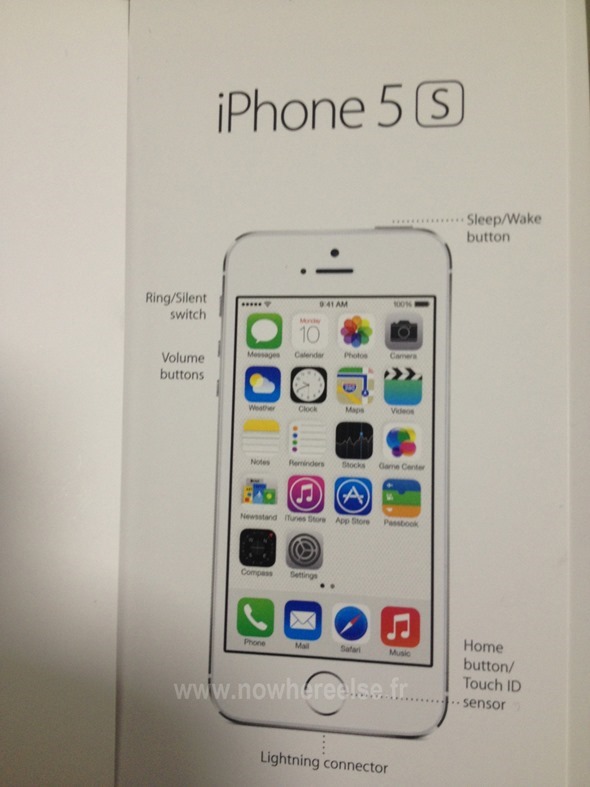 The photo features what is said to be the iPhone 5S running iOS 7, showing off the Fingerprint Sensor being referred to as Touch ID, as well as the silver ring around the home button.
iPhone 5S – S Always stood for Scanner!
However, the photo also appears to feature a slight departure for naming conventions for iPhone buttons in user guides. For example the "Volume Buttons" and "Sleep/Wake button" are referred to instead of the usual "Volume Up/Down" and "On/Off Sleep/Wake".
If believed to be true, and the iPhone 5S will in fact after all these leaks feature a fingerprint scanner, or Touch ID, it marks a big step in the direction of security. You just have to look at the excess premium on insuring iPhones compared to any make of device to see that these iPhones get lost, damaged, and stolen a lot more frequently. Bringing a never seen on a phone before technology such as fingerprint scanning allows the users to ensure that only those who are provisioned can access it.
The leak also suggests that the biometric identity features will be embedded at a hardware level in the Home button hardware, which ties into what we've been hearing from the leaks, together with the component board leaks we reported on earlier in the week.
Should the rumours be true, and we only have a few hours until we find out, Apple will have taken an innovative leap in the smartphone market, and you can expect all phone manufacturers to take note and follow suit.