Reports have been coming in that Android Jelly Bean 4.2.2, the latest update to the Android OS, has dropped with very little fanfare. Yugatech reports:
"This news started when some folks from Brazil and Malaysia were surprised to see that their brand spanking new Nexus 4 is running on Android 4.2.2 when they checked the phone's settings. Some folks who already have the latest Google phone reported that they also got the update OTA."
Supposedly, Android Jelly Bean 4.2.2 is an "incremental update" and doesn't really bring any outstanding changes to the Jelly Bean version of the Android OS which probably explains why it wasnt announced. According to the report, Android Jelly Bean 4.2.2 is just "a bug-fixer rather than being a completely different beast." And with no official word from Google despite some users reporting that they're already running it, there's really not a lot of information about it as of the moment.
Still, we figured that some of you out there who own Google Nexus 4 units or the latest Android smartphones might be interested to know that Android Jelly Bean 4.2.2 exists. Go ahead and check your system settings to update to the latest version of your Android OS.
We'll keep an eye out for more information on Android Jelly Bean 4.2.2 and be sure to share them with you as soon as they're available.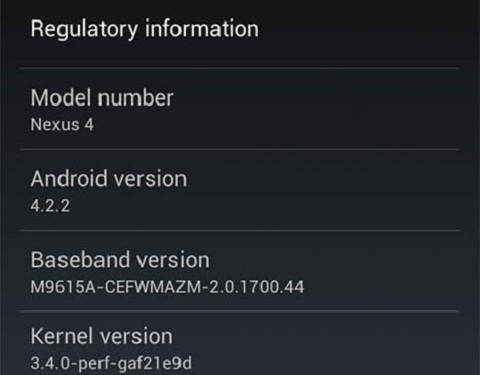 Is your phone already running Android Jelly Bean 4.2.2? What changes have you noticed since you installed the update? Share your findings with your fellow Tapscapers in the comments below!