Macworld, the conference everyone loves, will be opened by the very guys playing Steve Jobs and Steve Wozniak in the upcoming movie jOBS. Ashton Kutcher and Josh Gad will be attending the Macworld conference in San Francisco next week.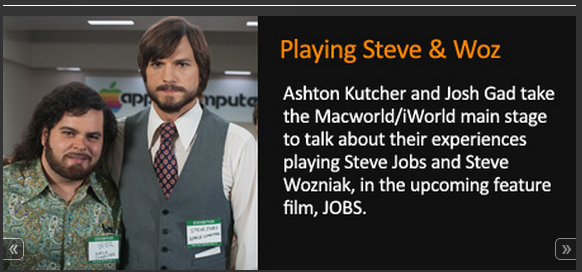 Ashton and Josh will be holding a talk where they discuss their experiences in playing the two Apple co-founders in the upcoming movie. The session is titled "Playing Steve & Woz," and it will take place on the main stage of room 2005 at 9:00 a.m. on the first day of the event.
Macworld/iWorld is the world's ultimate fan event for those who use, create, and love Apple products. Attendees will encounter a unique celebration of Apple technology-infused art, music, and film, as well as learning opportunities, and a shopping mecca in our exhibit hall filled with products and services for Apple users of all skill levels and interests. From home users, to artistic hobbyists and professionals, and the true Technorati—Macworld/iWorld gives attendees the chance to experience all that the amazing world of Apple-related tools can offer.
Apple used to use this event as their primary conference, but not having actually attended since 2009, the conference still attracts a wide variety of developers, companies, and fans who all share a similar interest in Apple. A variety of Apple products are advertisements fill the floor at Macworld, and this year will be no different.
Macworld, which is open to the public with tickets beginning at $25 for access to the Expo hall, will begin on January 31st and runs until February 2nd at the Moscone Center West in San Francisco. The movie in which Ashton and Josh are set to play the iconic entrepreneurs who famously founded Apple is set to debut at the Sundance Film Festival later this week, with a public release scheduled for April.