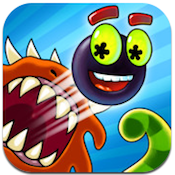 Price: Free Score: 8.5/10 Category: Games
Looking for a new iPhone game to burn up all your free time? You should check outJumpster, developed for iPhone and iPad by G5 Entertainment.
Long-time readers and heavy iPhone game consumers will likely recognize G5 Entertainment's name, as they've been behind a huge library of mobile titles. Earlier this year, we reviewed a G5 title called Treasure Seekers 4. It scored nearly a 10/10, thanks in part to surprisingly addictive gameplay and very high production values.
Not surprisingly, G5 has done it again with Jumpster. The game has a great look, and the mechanics are simple to master.
The plot of Jumpster revolves around a tiny alien who has crashed his ship. In order to get back, he needs to collect oil and other supplies, while making complicated jump maneuvers to get back into his ship.
Along the way, there are also some scary looking monsters that you'll need to avoid, plus some seriously tricky traps. The variety of terrain and enemies that you need to work around make Jumpster a ton of fun.
Considering the low low price of Jumpster, there's a huge amount of content. This is how free apps ought to be. Jumpster includes 4 worlds, 80 levels, 10 power ups, and tons of achievements to unlocks. Also, Jumpster features a cool system where you can customize your little alien with one of over 40 different costumes, giving the game an added "gotta catch 'em all" dynamic.
While the controls and mechanics are solid, the level of difficulty is a little bit too low to engage seasoned iPhone gamers. But with plenty of updates to come in the future, Jumpster is a great iOS game that's sure to keep getting better with time.
Jumpsteris compatible with iPhone, iPod touch, and iPad. Requires iOS 4.0 or later. A small expedite fee was paid by the developer to speed up the publication of this iPhone game review.