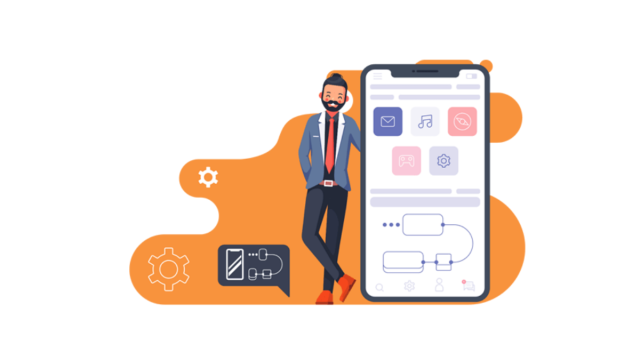 'Android and iOS,' these two names have been names that are always taken in sync! Both these operating systems have taken the development industry by storm. Wonder why?
The answer is simple, both the platforms have their vivid user base. In fact, today, there are over 2.2 million apps in the iOS stores, penetrating the popularity of Apple users. If you're a business owner, we're sure you can't overlook the possible ilities of connecting with such an expanded database.
Hiring professional iPhone application development is your way to get inside the Apple ecosystem and make the most of your business. Let's understand more of these benefits in this blog!
Benefits Of iPhone Application Development In 2022
#1 Better App Revenue
The ROI of iPhone apps is higher than that of Android! Up to a point, Apple promises increased ROI as iOS users are inclined to pay more for an app (in-app purchases) than Android users. Additionally, the average price of an iOS app is less than that of an Android app, greatly enhancing the advantages of a custom iPhone app development.
Therefore, employing iOS applications may help your business achieve sound financial conditions with improved revenue and ROI. Besides, the best way to maximize your iOS application development process's potential for money generating is to keep an eye out for common pitfalls, helpful hints, and other relevant information.
#2 Enterprise-Level Security
Android apps have been infamous for providing a significant danger of allowing access to critical corporate data. On the other hand, when you contrast the security features of the iPhone and Android, the iPhone apps use strict security methods like the following to secure firmware and software:
The additional security measures that come with iOS programming are another benefit. As per predictions, cybercrime costs nearly $6 trillion annually! Again, this is where iOS development is useful as Apple is known for being at the cutting edge of security features. As a result, one of the greatest advantages of a custom iPhone app development Company is its services, where you get:
Systems for processing integrated data.
Measures to avoid data duplication
Preventing security breaches brought on by data encryption
Another benefit of the iPhone over Android is that consumers are protected from viruses and hackers.
#3 Vetted To High-Quality Standards!
Until the applications meet the rigorous criteria of Apple's Play Store, they aren't made accessible to the market, and iPhone app development for businesses remains unfinished. This way, Apple ensures a high standard of the different applications in its store.
Once live, any user can be guaranteed that an iPhone app will work flawlessly and provide an outstanding experience when they download it. Additionally, Android app development is more expensive than iPhone app development due to Android's slower development pace.
#4 Optimal User Experience
According to the statistics, 56% of users remove apps within the first week after installation. Why? Due to the unpleasant experience. But with iOS app development, this is not the case! On the contrary, iPhone applications provide customers with a reliable user experience completely supported by Apple's iOS.
Applications over iOS are based on the highest hardware standards and faultless software features, resulting in a remarkable performance. To top it all off, thorough customer service and great user experience via regular updates throughout an app's lifespan add to the perks of having an iOS app for your business.
#4 Established User Base
One of the main advantages of developing iOS applications is tapping into the established user base, which is one of Apple's USPs! Apple is a leader in software and technology. Although Android users make up 75% of app users, Apple has a devoted following of customers who vouch for its performance and quality.
Besides, there's another common belief that once smartphone user uses iOS, they'll never be content with any other operating system. Therefore, once you deal with the iOS application, your business has a better chance of adding to your revenue!
#5 Ease Of Testing With Low Fragmentation
Apple typically releases one OS update yearly, replacing its current OS with new and better features. Additionally, there are fewer Apple devices available than Android-based ones. Therefore, for Android apps to function correctly across all Android OS versions, they must undergo extensive testing. On the contrary, all an iPhone for business needs to do is pass the standard iOS version testing requirements.
This significantly reduces the testing time for the hired iOS developer and ensures that iOS apps will launch quickly. Besides, significant market fragmentation exists for Android. Only 10.4% of Android users utilize the most recent OS release, while the bulk still uses three years old versions. This poses a serious issue for enterprises. They must invest in creating apps that work with all standard Android OS versions. All of this inevitably results in more significant app development costs.
Now You Know!
This brings us to the end of our blog on the benefits of getting an iOS application for business! Looking at the possible prospects, it's evident that choosing Apple's platform is cost-effective and generates better ROI while giving you peace of mind with security!
Therefore, now that you know, what's stopping you from connecting with Brainvire your nearest iPhone application development company in Australia?