"This year, we want to have the best tablet at ANY price," says Amazon CEO and Founder Jeff Bezos. Will the online retail giant and monopolist bookseller succeed? The Amazon's new Kindle, Paperwhite, Kindle Fire and Kindle Fire HD are competitively configured and prices are aggressive, coming in at $499 for a 32GB model with LTE. The catch, or the bonus depending your perspective is Amazon's $50 a year 4G data plan (250MB/month).
Yeah, there is good and there is bad, getting it all figured out is going to take time.
"That because they're gadgets, and people don't want gadgets anymore. They want services," states Bezos. "The Kindle Fire is a service."
Erm, that's a little yes and then so some folks not so much. Nevertheless the hardware packages on offer are diverse, generally well configured and price aggressively:
• New Kindle Fire, $159
— Order today, ships Sept 14
— New faster processor
— 2X RAM
— 40 percent faster performance
— Longer battery life

• Kindle Fire HD, $499
— 32GB storage
— 4G LTE: $50 for a 12-month data plan
— 20GB cloud storage
— $10 Appstore credit
— 8.9-inch IPS display, 1920 x 1200, 254dpi
— 8.8mm, 20 ounces
— 25 percent less glare
— OMAP 4470 processor, 50 percent faster than Tegra 3
— Dolby Digital Plus speakers
— 2.4Gz/5GHz dual-band wi-fi, two antennas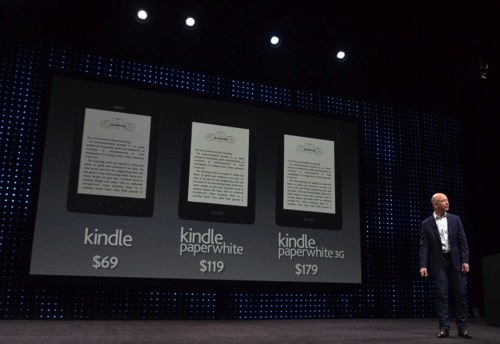 In total, Amazon offers a half-dozen Kindle-branded readers and tablets.
There's a lot to like in the Kindle Fire HD. However, sales of last year's Kindle Fire fizzled after people realized how chintzy and underpowered it was.
Kindle Fire HD doesn't look underpowered, but the proof will be in the pudding and that doesn't arrive until November 20, a very long time to wait.
• Kindle Paper White 3G, $179
— Pre-order now, ships Oct 1
— 8 week battery life
— Patented light guide
— Kindle Owners' Lending Library
— X-Ray
— Time to Read
— Books in 60 seconds
— Whispersync
— Free Amazon Cloud storage

• Kindle Paper White, $119
— Pre-order now, ships Oct 1

• Kindle Reader, $69
— Pre-order now, ships Sept 14
Paperwhite is brighter and has more contrast than last year's Kindle at a really good price. Moreover, last year's Kindle is still here and it's stupid cheap — Amazon just solidified its ereader lead.
Huge news from Jeff Bezos' rented airplane hanger, but the last minute arrival of the Kindle Fire HD will be a deal breaker for lots of people What here has you excited? What's got you hating?