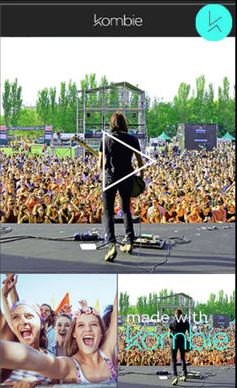 Why Kombie?
Kombie is an app that enables users to mix their own recorded video and photos with a variety of video clips. Users can mix them with music, sport, TV show, movie clips and more besides. Then you can share those clips on Twitter or Facebook.
Options and Functions
Users can select video clips that full under a variety of categories. The clip categories include memes, music, happy holidays, movies, ksi, TV and more besides. A search box is included so you can find clips with keywords.
However, the app has one notable shortcoming. The shortcoming is that the video clips you can select only have a length of about 15 to 20 seconds. That makes them very short, and the app only enables you to record your own five second videos with camera to mix in with them. So that gives you just a five or six second clip to mix in. There are no options available to extend the duration of your video clips. Note that the clips mixed in with the videos have no sound either.
Furthermore, you can also mix your own photos into the video for about five seconds. And you can only add one photo per each clip. The app does include an option with which you can adjust the colors of photos and videos and a clipping tool to cut out some of the recorded video, but that is about it. There are no other video or photo-editing options to select.
Ease of Use and UI
The UI layout of the app is not bad. You can set up a video by clicking an Add a clip and Add your photo/video button. At the bottom of the app is a bar which includes Channels and Profile buttons. Note that you have to register an account first to start this app.
Final Thoughts
Kombie is freely available with no IAPs, but has very limited options and functions. It gives you limited video options with which to mix a five second recording in with a slightly longer clip. The app really needs more extensive video-editing options. You can find extra details for the app here.
TESTED ON: IOS 8 IPHONE