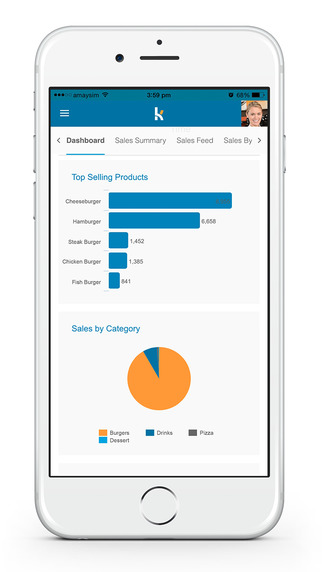 Kounta is a powerful cloud-based point-of-sale (POS) app for iOS geared towards hospitality businesses. Whether you operate a cafe, restaurant, bar or coffeeshop you need a POS – and which one you choose can make a big difference. Kounta is an app which offers the basics in a streamlined fashion as well as powerful analytics and reporting for your business.
The POS is a vital part of any customer-facing business. Whilst older POS systems would only let you ring up items and process payment, the new generation of point-of-sale software brings a host of features that make running your business easier and importantly – more efficient.
Kounta is a free download and is also free to try on one of their 'Lite' plans. To get started with the app you need to register and provide an email address, company name and phone number. Whilst the app can be used on any iOS device in-store, it's easier to get the set-up done on a desktop or laptop computer. You can upload your product lists via CSV/TSV file to save time or manually add individual items.
Products themselves are easy to edit and assign name, price, tax and a photo/image. For items such as cocktails or meals, you can even add recipes so that you can keep track of ingredients – a big advantage for stock management. Add to that rules-based price lists for automating happy hours, specials or sales and Kounta has both your product and pricing squared away.
A table-layout module is integrated for a host-station if you own or operate a larger venue and use a host to allocate customers to tables or seating. The interface is clean, simple and intuitive to navigate and access features.
Kounta offers integration with a number of industry-leading third party apps for payment, accounting, rostering and so forth – like Deputy, Tyro, Xero and PayPal. The app forms the centrepiece of a cloud-connected hospitality or retail business.
The reporting functions in Kounta are excellent, and offer deep insights into sales. You can view top-selling products by date-range, sales by category, sales by day/week/month, top staff sales, top customers and more.
A great solution for retail and hospitality point-of-sale, Kounta is a free download with premium support and worth a try today for your business.
Kounta requires iOS 7.0 or later. Compatible with iPhone, iPad, and iPod touch.