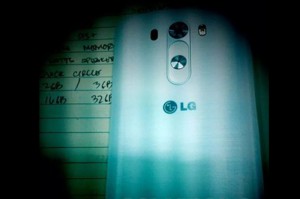 Emails from LG to technology publications have revealed that the company will introduce a new flagship smartphone on May 27 and May 28, depending on your location. Although the name "G3" has yet to be mentioned in any public LG marketing material, it seems likely that it will be the named used, especially since LG says the event is for the "next big global device after G2."
Just as LG revealed its global launch date for its upcoming flagship smartphone, a new image of the phone's back was released on GSMArena. The picture shows that the general layout of the G3 is similar to the G2 and that the volume/power buttons are going to remain on that part of the phone.
Read This: Golden LG G3 On Track For Summer Release
The only major change to the handset's design, based upon this photo, is that the buttons have been re-designed and there is a new sensor next to the camera. LG's updated buttons are rounder than before and that is particularly true for the power button, which seems to be both round and metal.
A small amount of information was also leaked along with the photo, which suggests that the handset will launch with either 16 or 32GB of storage and 2 or 3GB of RAM. Neither of those specs are unusual, but rather quite in line with the majority of current Android phones.
Other specs such as the G3's 1440*2560 display and 16-megapixel camera were leaked previously. The phone is reportedly on track for a July release.
Since there are some options with the device's RAM capacity, it is possible that multiple versions of the device will be released globally or on a country-to-country basis.
The launch events are set to occur next month on May 27 for London, New York, and San Francisco and on May 28 for Seoul, Singapore, and Istanbul.
If you have anything to contribute, make sure to add it in the comments section!
Summary

: LG's new flagship, the G3, will be announced on May 27 and May 28. The phone will then be released in July, according to new reports. The G3's volume and power buttons will be located on its back, just like the G2.

image credit: pocketlint