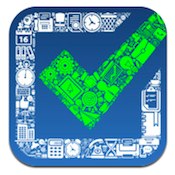 Price: $0.99 Score: 9/10 Category: Productivity
iPhone productivity apps clog up the App Store. Some stand out as must-haves, but the majority that I have tried so far actually decrease my productivity due to sub-par design and poor functionality. So imagine my surprise when the dollar iPhone appLifeTopix, developed by LightArrow, Inc., turned out to be a hidden gem.
Despite the fact that LifeTopix only costs 99 cents, it's got one of the better interfaces I've used in a to-do list/productivity app. At a glance, from the moment you open LifeTopix, you can see what's on your plate today, tomorrow, and over the next seven days.
The interface, while arguably a little cluttered with icons around the left hand edge, remains easy to navigate and manipulate. Of special note is the "My Topics" section, accessible by tapping the third icon down on the left hand nav bar.
From "My Topics," you can easily any of the 12 pre-established categories for your events and to-do list items. This helps you to easily organize your personal and professional events without overthinking things. You can build shopping lists, health and fitness reminders, financial notes, and more.
Now, admittedly, LifeTopix is a bit cramped if you're using it on your phone: the cramped feeling disappears on the iPad. However, with such robust functionality, a slightly small font size is barely worth mentioning.
If you're tired of jumping between multiple iPhone apps to manage your to-do lists, LifeTopix effortlessly combines your personal and professional lives into one cohesive unit…and manages to do all that without making the combined workloads seem overwhelming.
Oh, and did we mention that LifeTopix also works seamlessly with popular online productivity tools such as Dropbox, Evernote, and Toodledo?
LifeTopixis compatible with iPhone, iPod touch, and iPad. Requires iOS 5.0 or later.A small expedite fee was paid by the developer to speed up the publication of this iPhone app review.