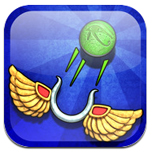 Price: $2.99 Score: 10/10 Category: Games
The newest addition to the Luxor family of marble-poppers is the astoundingly beautiful Luxor 2. With 88 levels designed in amazingly crisp, clear and gorgeous graphics, it would be worth playing for looks alone.
Happily, Luxor 2 is not only stunning to look at but is a delight to play as well. The marble-popping style that MumboJumbo has developed to such an art form continues in this newest with challenging and fun play. A player has to stay on top of several strings of marbles in each level, so thank goodness for the wide variety and regularity of the power-ups.
The iPhone/iPod screen size does make the make the game feel difficult at first glimpse, but the controls are easy to use and generally function smoothly. A long time fan of the marble-popper genre will most likely find it the best she"s played and newcomers to this type of game will come away hooked as well.
Only two minor things mar the beauty of this gem. Power-ups are earned by making three matches in a row, and are random. Other marble-poppers have the power-ups on the marble, and the player can choose to make a match with that marble オンラインカジノ日本 to get a much needed power-up. This way, there is no telling what power-up will come, and if it will be of benefit right now. Just a small point really, but it is nice to be able to choose a power-up when needed.
The other minor issue is that of controls. A finger swipe upwards switches between the current marble color and the next. A tap on the scarab shoots the marble. There are times when a finger tap is registered as a sweep and the marble changes to the next color and then shoots. I"ve found myself with a wrong color in bad placement a few times as a result of this. Due to the smallness of the iPhone/iPod screen, the controls have to be very close, and this is a situation where the closeness causes an occasional misread. Certainly nothing major, as it rarely happens, and certainly nothing grievous enough to spoil the game.
Luxor 2 contains superior sound effects; a lovely pottering crashing sound occurs when the marbles ("Destiny Spheres") break and a distinctive warning sound happens when a marble lands in between matching colors. The music is most appealing, with an ancient Egyptian feel, and is rich with voices, tympani and flutes.
There are fast paced bonus levels (shoot as many with a laser-type function as quickly as possible), coins and gems to catch for bonuses and a very helpful "aim assist" that can be turned off and on in the options.

Luxor 2 has long-term play value as well, not only because of the beauty and the great game play, but because of a wide variety of achievements to complete and earn badges. Many will take several plays through to accomplish. Adding to the replay value are the three play modes.: the adventure mode, a survival mode, and a practice mode where each level can be played individually.
Bottom Line: Luxor 2 is graphically stunning and the game play is solid and rewarding. While $2.99 may seem a lot to play for a game, this one is well worth it.
Luxor2 is compatible with iPhone, iPod touch, and iPad. Requires iOS 3.0 or later.