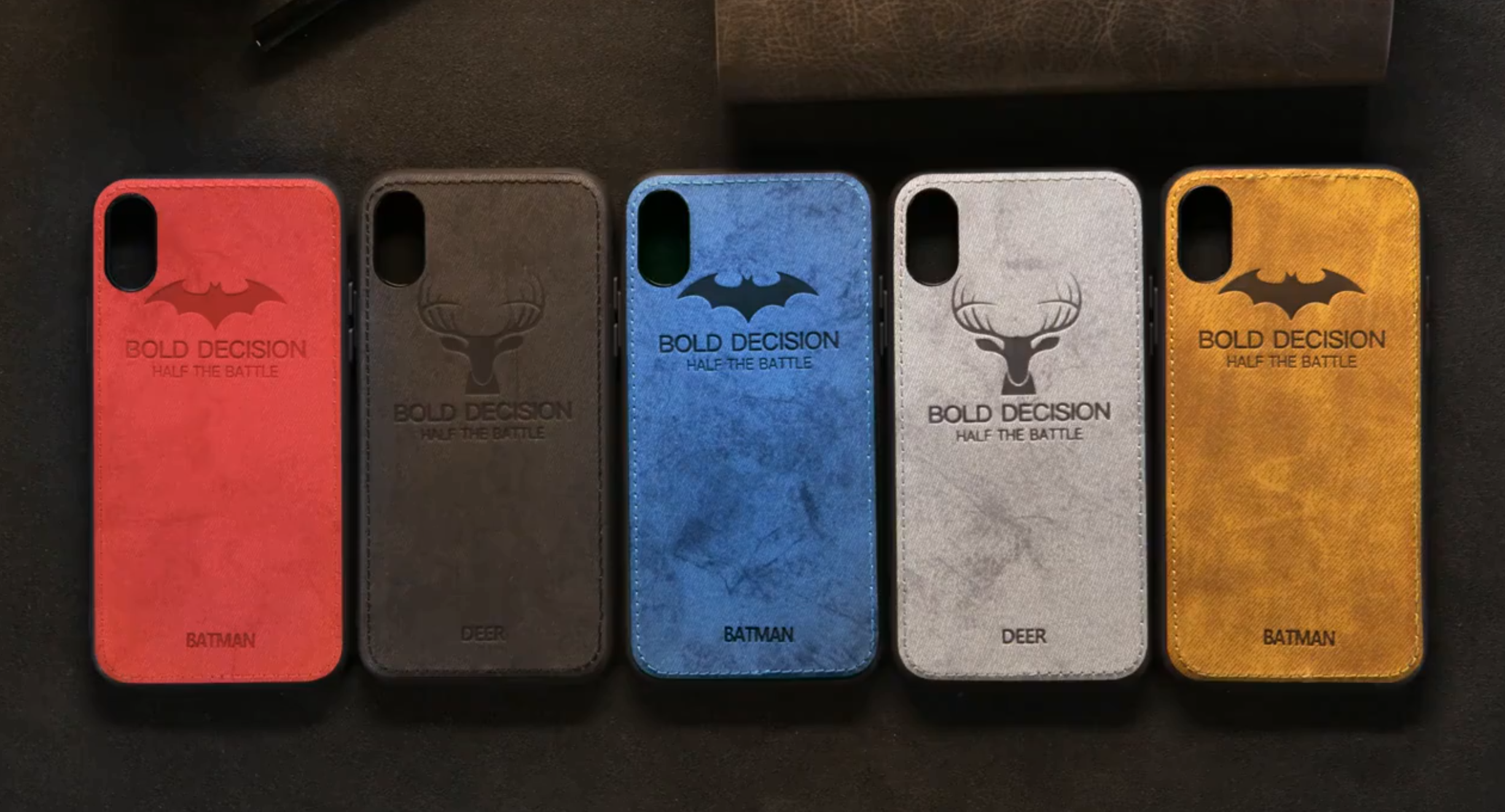 You're probably enjoying an all-new iPhone right now. Congratulations on getting a super sleek, super stylish, high-end smartphone!
Feel the premium aluminum or stainless steel finish that houses high-quality material. Marvel at the futuristic gadget's speed and sharpness of the screen. Your new iPhone is bound to make your life more interesting. So when it comes to protecting your iPhone, you don't have to compromise style. You can get some great luxury cases for the iPhone Xs, iPhone Xs Max, and iPhone Xr to match the beauty of your device, at a price well within budget.
With these cases, your precious device will be safe from scratches, spills and inevitable drops. The sugar on top is the fact that these cases come with free express shipping worldwide!
Luxury iPhone Xs, iPhone Xr, and iPhone Xs Max Cases
1. Fabric Luxury Cloth Case ($38.95)
"Time may lapse, but cloth is forever!" is the driving design concept behind this luxury case for your newest iPhone. If you love the feel and the comfort of cloth material, then this is for you.
The case emulates denim clothing and comes in several colors, including Brown, Gray, Blue, and Black. It won't get mudded with fingerprints and can repel water to a certain degree. You'll love how the luxury case feels nice to the touch and how it won't get too hot or cold with the weather. 3D imprinted pattern makes the case stand out and adds to the overall aesthetics.
The Fabric Luxury Cloth Case doesn't lack in terms of functionality. Its cowboy style cloth is washable and waterproof, and the reinforced, corners ensure that your iPhone will survive the occasional drop to the floor or pavement. Needless to say, It's the perfect complement for your new device!
2. Flip Leather Wallet Cover Case  ($34.95)
Hate having to carry around a separate card holder or a wallet? Do you need a multi-purpose case for your newest iPhone?
The Flip Leather Wallet Case will grant your every wish! It's the Swiss Army Knife in the world of luxury cases. First, the card and photo frame slot allows you to bring your credit card, ID or a picture of a loved one without the need for a separate card holder. You'll fall in love with the premium, stitched leather design that comes in Brown, Black, Blue, Hot Pink, White and Red. There's even a magnetic buckle that secures your belongings safely as you go about your day.
The stitched, reinforced shock-proof case has raised cut-outs that protect your iPhone's camera lens from scratches. The back can double as a stand for when you're watching videos on your mobile device. It's classy, fashionable and versatile all at the same time!
3. Flip Stand Leather iPhone Wallet Case ($28.95)
Smother your iPhone in the soft, velvety feel of leather with this Flip Stand PU Card Case. You can choose from many available colors, including Black, Coffee, Dark Blue, Red and Gold. The form-fitting factor accentuates your new iPhone and makes it stand out from the crowd!
Inside the luxury business leather cover is a single pocket for putting credit cards, IDs or bills in. The PU material is highly resistant against dust, dirt and impacts, including drops, knocks and bumps. Moreover, the cover can double as a kickstand for when you're watching videos or chatting with friends on social media. Even when closed, you'll be able to access the volume rocker, power button or charge your iPhone.
The back of the PU Leather Case is reinforced for added shielding. You'll now have peace of mind knowing that your latest investment will be protected against the elements while looking undeniably stylish at the same time!
4. Armor Shockproof Card Slot Case ($24.95)
Need the baddest, toughest and the most durable armor case in the market? You can't go wrong with the Armor Shockproof Card Slot Case. It has everything you'll need in a hard case, and more!
Let's start with the armored shell, which comes in a myriad of color variety such as Navy, Gray, Black, Green and Rose Gold. The brushed finish lends a premium, tactile feel, and the material practically makes your iPhone indestructible. Heavy duty reinforcements add to the shock-proof, dirt-resistant, anti-knock properties of the case, which means you'll be free to use your iPhone to its fullest potential without worrying about ruining it. The case provides enough protection without being too bulky to cramp your iPhone's style.
Open up the bottom catch at the back and you'll be able to stash a credit card or ID in the secret compartment. This feature comes in especially handy for traveling without needing to bring your wallet.
5. Thin Carbon Fiber Case ($24.95)
The Thin Carbon Fiber Case is perfect for those who want the best kind of protection for their iPhone in the slimmest form possible. The result? A luxurious case that's as premium-looking as the device it holds.
The soft-backed, luxury cover provides an elegant look while protecting your iPhone from dirt and the occasional bumps and scrapes. The carbon fiber texture is cool to the touch and provides a satisfying grip as you use your device. The surface won't attract fingerprints and wick away sweat. You won't have accidental, heart-stopping slips whenever you handle your iPhone. Best of all, the slim-fitting form accentuates the sleek, natural and beautiful lines of Apple's newest flagship.
Last but not the least, you can personalize your iPhone case with a special request to print your very own chosen logo. You'll have a one of a kind luxury case that's as special as your new iPhone!
6. Ultra Thin Soft Leather Case ($19.95)
You may love your new iPhone so much that you want to see the device in all its glory. But let's face it- sooner or later, you'll need to protect your precious investment from inevitable bumps and damage.
This is where the Ultra Thin Soft Leather Case comes in! It's a minimalistic-style luxury case for your iPhone with a few nifty features thrown in. The case conforms to the original shape and outline of your device in a thin protective layer, preserving the aesthetics and also adding a textured TPU leather material on the back. It's waterproof, fingerprint proof and dirt-resistant. The outline holes are very precise, which means you won't have any trouble plugging your charging cable in.
The soft silicone case comes in color choices such as Black, Red, Brown, White and Blue. Sensitive buttons and exquisite material will make this your favorite iPhone case in a long, long time!
7. Grid Weave Silicone Case ($29.95)
Looking for a jaw-dropping, novel design that's as every bit as stylish as it is functional? As it turns out, the grid weave provides some added features few other luxury cases can do!
The Grid Weave Silicone Case comes in solid colors such as Blue, Brown, Red and Black. It's flexible nature guarantees zero damage when you're installing or removing the case. Love the new iPhone camera? You'll adore the raised ridges around the lens. The anti-scratch, anti-fingerprint and anti-drop construction feels smooth and secure to the touch.
The case proves itself to be top-notch when it comes to heat dissipation, thanks to its breathable design. Gamers and movie marathon watchers won't have to worry about their precious iPhones heating up during extended sessions. Also, you won't need to remove your phone case for wireless charging- simply place your device, fitted case and all, and watch as your battery level rises!
8. Soft Silicone Ultra Thin Transparent Case ($24.95)
Clear iPhone cases are highly sought because they do two things- one, they offer a "bare" look that displays your iPhone's full beauty, and two, they protect your phone from everyday hazards.
The Ultra Thin Transparent Case is the perfect companion for individuals who want their iPhones "naked". The high quality, flawless silicone material won't yellow and retains its clear characteristic even after months or years of use. As for protection, you'll be glad to know that the flexible TPU has been treated and upgraded, and that there's a ring-heightened design for the iPhone's rear camera lens for preventing untimely scratches.
The fully wrapped, transparent case presents an aesthetic appearance. Everything is scratch-proof, watermark proof, dust-free and anti-knock. The case will save your expensive iPhone against everyday bumps along the way. Even more impressive is that the slim case fits like a glove, and the provided holes allow unrestricted, natural access to the rockers, the power and the charging port!
9. Soft Silicone Magnetic Ring Case ($24.95)
Your new iPhone deserves only the best. That means only high quality materials, accessories and cases should ever be allowed to adorn it. If you can't be without a phone ring and if you rely on your iPhone on the road, then this luxury case is a must-buy.
The case has a magnetic ring bracket that serves a number of useful functions. The iron plate easily attaches to your dashboard iPhone holder for hands-free use. The included ring can be flipped up and down 150 degrees and rotate at 360 degrees to secure your fingers in. Moreover, the soft silicone material is both sturdy and resilient, capable of absorbing shocks, bumps and the occasional drops. On the interior, a diamond pattern disperses the heat away from the iPhone for maximum cooling.
There's quite a number of color variations to choose from. You can get the Black with Rose Gold ring, Black with Gunmetal ring, Red with Red ring, Black with Red ring, Blue with Blue ring and the Black with Blue ring.
10. Tempered Glass Case ($24.95)
Luxury tempered glass presents a whole new dimension to iPhone cases. Combining the durability and flexibility of TPU material, a layer of glittery seashell and tempered glass, this luxury case offers both glitz and top-notch protection.
The seashell texture comes in Red, Pink, Black, and White and adds a bold, bright hue. The design is full-edged, which means you get complete protection for your iPhone at the back and at the edges. You'll also be glad to know that the glass case allows your iPhone to survive drops and falls without a dent or a scratch. It's dirt resistant, shockproof and anti-skid, and the raised area around the camera protects the lenses from damage.
As long as you're protecting your investment, why not make it the glitziest around? A beautiful device deserves an equally beautiful case! This glass-crafted protective case feels exquisite, looks great and best of all, plays a role in extending the life of your iPhone.
Are these cases not your type? If you are a girl reading this article, you may want to have a look at our latest luxury cases for girls listed here for the new iPhone.