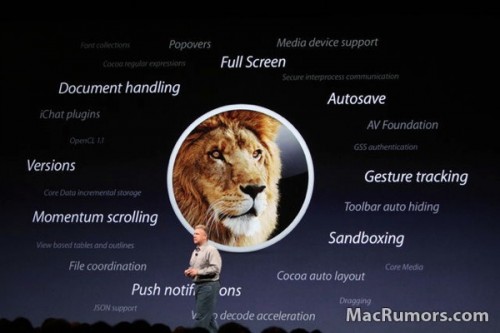 Mac OS X Lion, the eighth, and latest release of the Mac OS X operating system was unveiled earlier today at the San Francisco Moscone Centre in the opening keynote of WWDC 2011.
Apple VP, Phil Schiller took to the mic to fill in the 5,200 attendees on the latest updates to the Mac operating system. Schiller announced that there were a total of 250 new features, here are the Top 10:
Multi-touch gestures – Say goodbye to forward and back buttons. OS X Lion is built around enhanced gestures, enabling you to scroll, zoom, swipe and move through and between content like never before.
Mission control – An expansion of expose to include Spaces Widgets, all of which can be accessed in a unified view with one three-finger swipe.
Full screen applications – Your favorite Mac apps like iPhoto and Safari will now be completely full screen.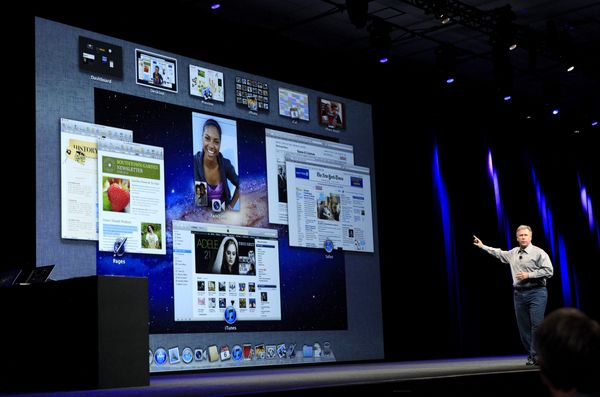 Mac App Store – Not a new feature for OS X Lion, but the Mac App Store has been brought to prominence by the fact that it is the first time an operating system update can be purchased directly from the desktop through the app store. Updated notifications integrate the new Mac App Store more seamlessly in to the OS.
Launchpad – Transforms your organization of apps with iOS-type simplicity. Your Mac apps can be accessed with a pinch gesture and appear tiled across the screen, so you no longer have to visit the applications folder to access your downloaded apps.
Resume – Auto-saving of everything. Saving has been redefined as a passive rather than an active process, so you will never lose your data through 'forgetting to save' or a system crash again.
Air Drop – Free, wireless, Mac-to-Mac sharing over Wi-Fi with no setup required.
Versions – The new Autosave features don't save over your files, they save the new version of your file while keeping the past versions, so you can browse through or restore previous iterations of documents or projects.
Email – The native Mail app for Mac OS X has received an upgrade, with improved viewability, usability and search functions.
Price tag – Mac OS X Lion is just $29.99 on the Mac App Store.