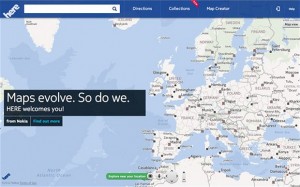 There are a wide variety of GPS applications available on the iOS app store but one of the most popular, Here Maps, has been removed as an option with Nokia citing iOS 7 as the reason why the app can no longer be downloaded.
Nokia's Here Maps application became more popular after Apple's own mapping service ran into numerous issues with the launch of iOS 6. Here Maps has only been around since November 22 but it has already been taken down with "Recent changes in iOS 7 harms the user experience." cited as the reason by Nokia.
We have made the decision to remove our Here Maps app from the Apple App Store…iPhone users can continue to use the mobile web version of Here Maps under m.here.com., offering them core location needs, such as search, routing, orientation, transit information and more, all completely free of charge – Here Maps
The GPS maps application is one of the few things still under Nokia's control following Microsoft's acquisition of the company. In fact, the app has enough potential that Microsoft has already signed a deal with Nokia to include Here Maps on its Windows Phone devices for the foreseeable future.
Since Nokia is blaming iOS 7 for its decision to yank the app from the App Store, it is likely that the company found it too difficult to redesign the application to work better with the completely redesigned operating system.
This is an issue that many other developers have faced since apps which have not been updated for iOS 7 tend to not work as intended, which was the same for Here Maps.
As Nokia has already stated, Here Maps has not disappeared and instead, it is still accessible via a mobile browser and it is still working as planned on other platforms, but iOS 7 simply was not compatible with it.
Even with the complaints that Apple has received from users who are unhappy with the way iOS 7 is affecting older applications, the tech giant is not planning on changing anything to accommodate developers. Although Nokia may have the money to make an iOS 7 version of Here Maps, the company seems to have decided that it would simply take too much time and energy.