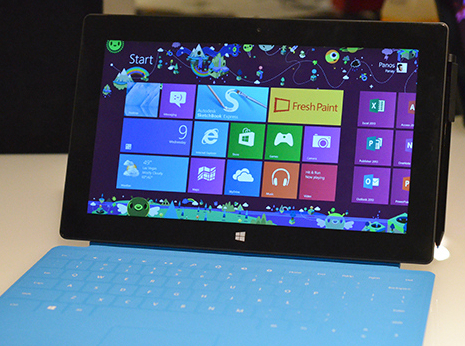 Microsoft has taken to Reddit to address some of the problems with the Surface Pro battery life and storage capabilities. Reviews of the Surface Pro have been pretty good, although there is still a lot to be desired, and two of the main problems are the battery life and storage.
In the Reddit post, Panos Panay, head of the Surface Engineering Team, answered the AMA in two segments, one about the Surface Pro battery life concern and the other over the lack of storage after Windows 8 Pro was downloaded.
Panos Panay has been loved by many as the exciting buzz of the new Windows hardware experience, sharing a lot of passion and buzz over the products he is making.
Surface Pro battery life
The first issue, the Surface Pro battery life. Panay describes that while making the Surface Pro, the team wanted to change the hardware to make it up to the level set by current generation notebooks, with an Ivy Bridge i5 processor and the best components, but still have the Surface form factor.
Panay says that comparing it to the MacBook Air, the Surface Pro aces it with battery life. This isn't really a solution, but it does bring the idea that maybe we are judging the Surface Pro battery life a little too harshly, considering it is a notebook and not a tablet.
Surface Pro storage
To the storage problem, the Surface Pro comes in 64 and 128GB versions, both of which have significant chunks eaten by the Windows 8 Pro operating system. On the 128GB version the problem isn't that bad, you still get 83GB. On the 64GB version, you get 23GB of storage, which is pretty small.
Panay has said that on the shipping units of the Surface Pro, the storage is freed up another 6 – 7GB, so on the 64GB version you will now have about 30GB of storage space. That is on top, Panay points out, of the 7GB of free SkyDrive storage, microSD port that supports expandable storage and USB 3.0 slots.
In reality, this does solve the problem of storage, but for users that want the Surface experience without backing up to their desktop, it may be a little annoying to buy an SD card or store everything to SkyDrive.