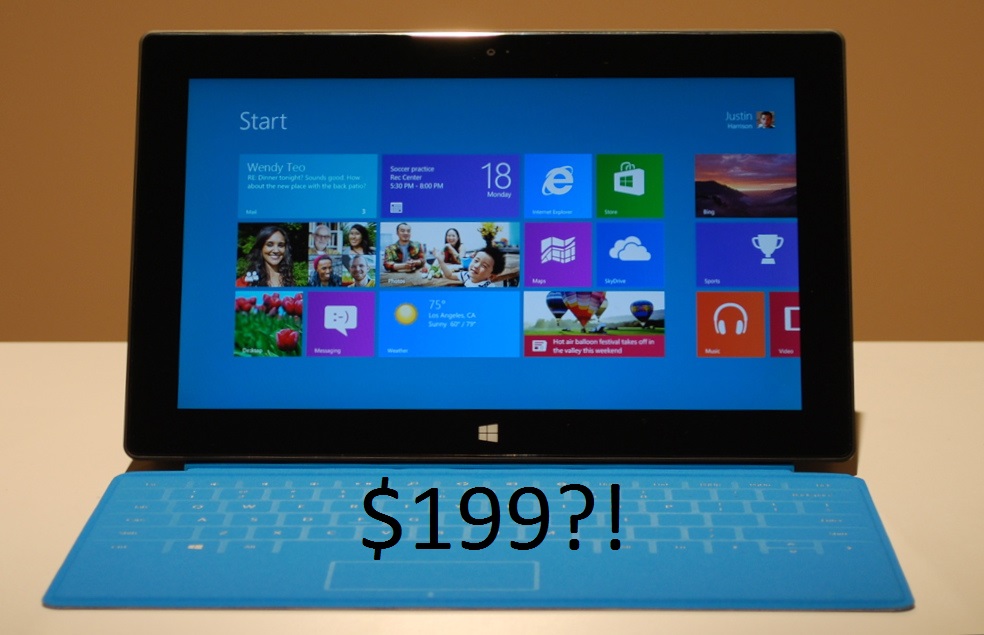 Microsoft made some pretty big waves when it announced the Surface tablet back in June. Since then, some of Microsoft's OEM partners (namely Acer and Toshiba) have come out saying that its a bad move for the struggling company.
A rumor circulating today rocks the boat even more. According to an anonymous source, Microsoft plans to release the Surface tablet on October 26th for $199.
If this actually pans out, its a pretty big deal for a few reasons. First, this puts the Microsoft Surface in the same price bracket as the Nexus 7, Kindle Fire, and possibly the yet-to-be-announced iPad Mini. This is despite the fact that the Microsoft Surface will offer a lot more bang for your tablet buck.
The Microsoft Surface tablet comes in two flavors, 32GB and 64GB and if they release the 32GB for $199 it will have 4x the memory of the Kindle Fire and the Nexus 7. Also, keep in mind that the Kindle Fire and Nexus 7 are 7-inch tablets, while the Surface is over 10 inches in size. Safe to say, Microsoft is coming out with all guns blazing here.
We'll certainly keep our eyes peeled on this one as it looks like Microsoft's first venture into the hardware and tablet arena could shake up the tablet market.
If the Microsoft Surface is released at a $199 price point, would you consider it over an iPad or Android tablet? Tell us in the comments.
SOURCE- Engadget