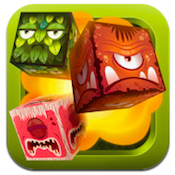 Price: Free Score: 9/10 Category: Games
Thank you, thank you, THANK YOU: someone made a game that lets you play offline or sign in with Facebook, without strong-arming you into making all your mobile gaming into a social experience.
Sorry about that. It's a pet peeve of mine when mobile games require the use of a social account to play, andMonster Cube for iPhone, developed by MonsterJuice, got big points with me right out of the gate with that simple decision.
And while you do have to pay 99 cents to unlock the full game, the free portion of Monster Cube is so much fun that you're sure to find it has become your new favorite game.
Monster Cube is, in essence, a 3D matching cube puzzler (that's a genre, right?) Think of it as Bejewled meets a Rubik's Cube: your aim is to match three of the mini cubes in any direction. This triggers an explosion, clearing the blocks. Destroy as many cubes in a row before time runs out to get the most points possible. And of course, there are the requisite matching game staples, such as combos, boosters, and "fever modes."
Now, while I may dislike being forced into turning my gaming into a social networking experience, I do appreciate the Facebook leaderboard aspect of Monster Cube, which does make the gameplay much more competitive. There's a Hall of Fame as well, which is cool.
With wonderfully responsive controls, eye-popping graphics, a social aspect that you can use or ignore, and addictive gameplay, Monster Cube seems to get it all right. I'd be hard-pressed to find an aspect of the design or game experience that I dislike, and for the whopping price of zero dollars, there's no reason not to sample this fun matching game.
Monster Cubeis compatible with iPhone, iPod touch, and iPad. Requires iOS 4.0 or later. A small fee was paid by the developer to speed up the publication of this iPhone game review.