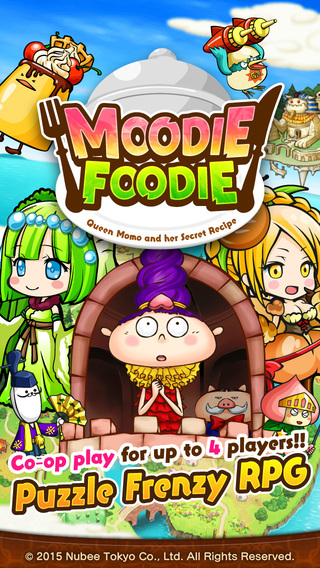 [app url="https://itunes.apple.com/us/app/moodie-foodie-queen-momo-her/id938523079?mt=8″]
Introduction
What's good, Tapscape! Today I'm back with another review for you guys and it's going to be Moodie Foodie—Queen Momo and her Secret Recipe by Nubee Ptde Ltd. In this fantasy game it's all about food and believe me when I say that it comes in many flavors.
This game looked really promising, but was it any good? Let's dive into the review!
Peachatoria, Queen Mom and the Pig
Our adventure begins in the land of Gourmetia—namely in its oldest country called Peachatoria, where we are greeted by a gourmet pig in the castle of queen Momo. It doesn't take long before you dive into the action, as the normally constant flow of delicious ingredients is halted and queen Momo calls for brave lads to fight against the evil of the world.
After gazing upon the beautiful and colorful world of Gourmetia and seeing some cutscenes, the whole game was explained to me in a fairly elaborate tutorial. Basically Moodie Foodie is a mixture of puzzling, role-playing and simulation. With such a unique mix of genres could the game be bad?
Blasting fruits!
In Moodie Foodie you play through stages by swiping away fruits of the same color—the more you can swipe away in one turn the greater your damage against enemies will be. There is a lot more to the game than this, however, as swiping away six of the same colored fruits at the same time will result in a special coin appearing on the play field.
This coin can be tapped in a single turn for a much higher damage output, and in addition to this you can unlock a frenzy mode which will give you unlimited swipes in a single turn for a set period of time. This lovely mixture of puzzling, action and role-playing is really addicting and I really liked the concept of the game.
After clearing a stage you get materials, coins and other collectibles but the best part is you can unlock new warriors for your own team (which are, of course, all food themed and adorable). There are over 300 (!) different creatures to collect and when you max out their stats you can even make them evolve. It goes without saying there is an incredible amount of things to discover and check out in Moodie Foodie.  Also, did I mention you can play with your friends in real-time whenever you want?
Our conclusion
Moodie Foodie—Queen Momo and her Secret Recipe looks amazing, sounds great and plays wonderfully. There really is something for every gamer of every caliber in this app and with tons of events, updates and even real-time integrated multiplayer there is no reason why you shouldn't check this game out. Did I mention it is completely free as well?
Moodie Foodie requires iOS 6.0 and is compatible with iPhone and iPad