Cord cutters–those that have gotten rid of their cable or satellite TV subscriptions–are becoming more and more common every year. A new report from Experian Marketing Services shows that while the overall percentage of cord cutting households has risen, the percentage is even greater among households that also have Netflix or Hulu.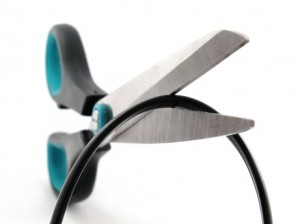 Over the past four years, the amount of people that have gotten rid of cable has risen by 44%. Between 2010 and 2013, the percentage of general households rose from 4.5% to 6.5%, households with an 18-34 year old rose from 7.9% to 12.4%, and households with a streaming service subscription went from 12.7% to 18.1%.
This may seem like an issue for cable providers but in reality, cable is far from dead and even if it were, that isn't necessarily a bad thing from companies like Comcast. Many cable providers are also internet service providers (ISPs) which means that their customers are simply moving to a new medium of content delivery, but are sending money to the same place.
It is easy to see that regular TV will remain around for quite a while, considering that 1/6 of US adults watch at least 40 hours of video from satellite or cable every week.
It is not entirely clear why there is such a strong association between the percentage of people that have a Netflix or Hulu subscription and those that are also getting rid of cable. Either those individuals are so in love with streaming services that they decide to get rid of cable or they dislike cable so much that they have found an equally worthwhile alternative in services like Netflix.
Depending on which way you look at it, this shift may be beneficial for large companies like Comcast anyways, since they are now able to cut deals with Netflix and others in order to "double dip" and make even more money.
Question – Have you gotten rid of cable? If so, are you using Netflix or Hulu instead?
Summary

: More US households are getting rid of cable TV. The increase in cord cutters is particularly high with households that also have a subscription to Netflix or Hulu.

image credit: breitbart