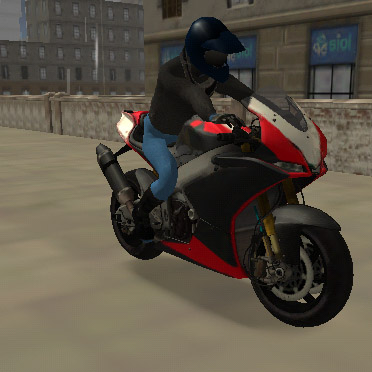 [app url="https://itunes.apple.com/us/app/motorcycle-driving-school/id916325686″]
Earning your drivers license is undoubtedly the most tiresome aspect of getting your own set of wheels and being free to take on the open road. The whole process is somehow both stressful and tedious, and it's the one thing standing in your way on your quest for independence. And now we get to relive those moments on two wheels via our iDevices with Motorcycle Driving School.
You know that moment when you're playing Grand Theft Auto and you say to yourself, "I think I'm going to stick to the rules of the road for a while", and then within three minutes you're bored to tears and are back to driving over prostitutes? Well, Alexandru Marusac's Motorcycle Driving School is the embodiment of that sensible sentiment. Using tilt steering, an accelerator and brake trigger, and your turn indicators, you're sent around the city (and later, the surrounding farmlands) to prove that you're a safe, conscientious biker. Sound dull to you? Then you're clearly not part of the target market here. If you're looking for fast action and smooth, arcing bends on a spicy superbike, you've come to the wrong place. This one is all about being sensible, courteous, and painfully slow. Essentially, it's biking with most of the fun sucked out of it.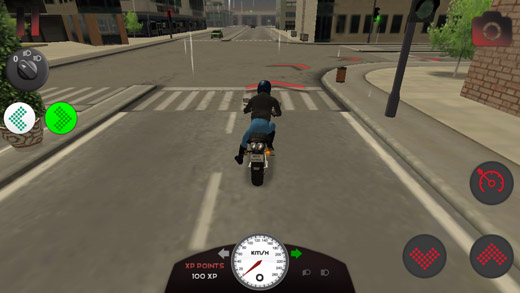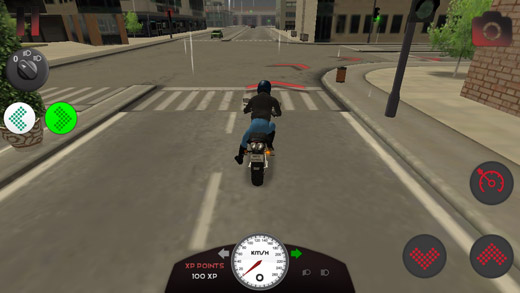 License tests are divided between region and then night or day, with a substantial set of trials to complete before you're put through your paces in an exam. Each trial is pretty much the same as the one before it – you drive around aimlessly, being sure to indicate before you turn, wait for red lights to turn green, watch for pedestrians, and don't touch any of the scenery. Successful turns and safe driving earns XP, which in turn unlocks more exotic motorbikes to tear through the countryside dawdle through the uninspired city streets. Simulation fans – the same gamers who enjoy the deadly serious nature of something like Microsoft Flight Simulator – might be enthralled by this no-nonsense approach to biking, and there's a certain sense of accomplishment once you reach your end point with a perfect score.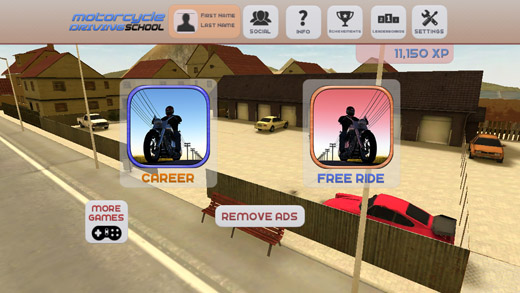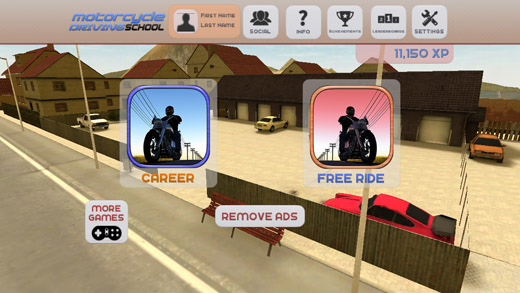 But for a game based on strict adherence to road rules, there are some glaring inconsistencies. For example, while you're rightly punished for skipping a red light, there's no reprimand for just parking your bike in the middle of the road while traffic builds up behind you. You can take your wide turns at three kilometers per hour, and no one says a thing. The camera angles also make things more complicated than they need to be: if you're to stop at a traffic light, it's impossible to see when the light has changed to green without either rotating the camera or reversing to bring the light back into view. And the lights change so quickly, by this time it's about to turn red again. And so you push forwards and are promptly slapped with a 50 point deduction. It's issues like these which take away from the overall experience, even if a stoic simulation-style test is what you're after.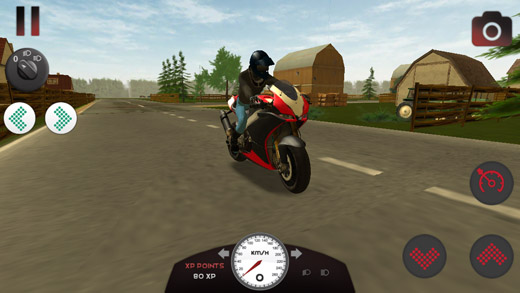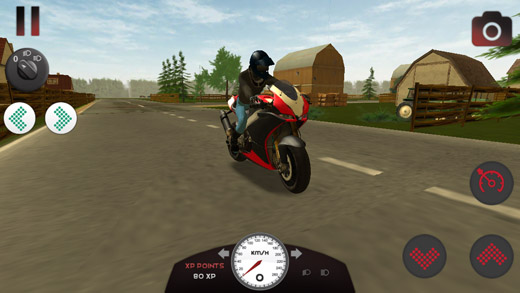 Still, there are quite a few motorcycles to unlock and they are well detailed, with surprisingly intuitive tilt steering. The environments are a little bland but that doesn't matter all that much as you'll be too busy trying not to jump a red light to notice. If you're stuck for new racing simulators on your iPhone there are surely more remarkable examples out there, but if you feel like putting your biking skills to the test – and at no cost to you – this one will keep you busy for a while. Just don't expect thrills and spills, or big production values.
Requires iOS 4.3 or later. Compatible with iPhone, iPad, and iPod touch. This app is optimized for iPhone 5.