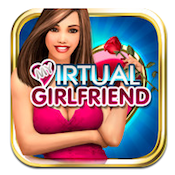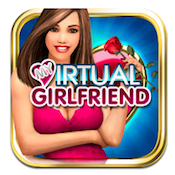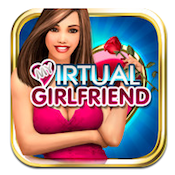 Price: $0.99     Score: 8/10     Category: Games
My Virtual Girlfriend is an iPhone game developed by WET Productions Inc., advertised as "the most talked about virtual girl dating simulation app available in iTunes." Whether you're a teen guy looking for some "dating" experience, or a fan of Japanese dating sims looking to branch out, this fun app is worth checking out.
Your goal: pick out a virtual girl from one of the hundreds available, and woo her. You'll fill out a player profile (where you rate yourself in terms of personality traits like humor, health, and sensitivity), as well as a profile about what kinds of girls you like. Then, you'll be presented with hundreds of women, each with different personalities and looks.
The girls are fairly different from each other, though the graphics leave a bit to be desired. They aren't bad, at all, but they are a bit polygon-y, almost like the Sims back on my PS2. The girls look fine, but they could be rendered with a bit more finesse to make them more appealing.
You'll be presented with five girls at a time to review, but you can hit refresh to see more. You also have the option to customize existing girls to your taste.
You do have to be a gentleman, or the girls will dump you right off the bat. You can give her gifts to make her like you more (and some of those gifts include skimpy little outfits.)
If you want to "try before you buy," there is a Lite version of My Virtual Girlfriend available for free. The Lite version does have ads, however. If you're a lonely guy looking for a fun distraction, My Virtual Girlfriend is a cool title to check out. Your virtual girlfriend will even respond to your touch!
Oh, and ladies, there's a My Virtual Boyfriend game from the same makers. Just to keep things fair.
My Virtual Girlfriend is compatible with iPhone 3GS, iPhone 4, iPhone 4S, iPhone 5, iPod touch (3rd generation), iPod touch (4th generation), iPod touch (5th generation) and iPad. Requires iOS 4.3 or later. This app is optimized for iPhone 5.