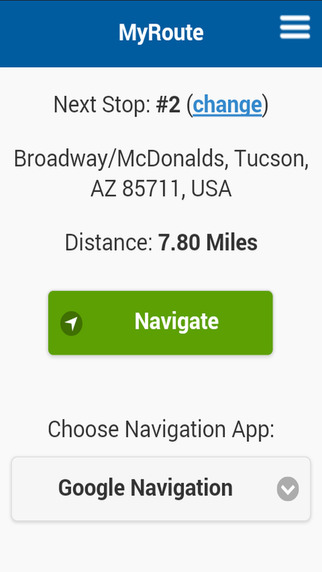 MyRoute is a navigation-focused iOS app developed by MyRouteOnline – route planner app.
The app is not designed to replace your main navigation app (i.e Google), but rather to help you load in waypoints/multiple stops on a journey. Whilst it can certainly be used by individuals visiting a new city or going on a driving holiday, MyRoute is particularly useful as a commercial tool for delivery companies, trucking, contracting, trades, couriers etc – saving money by finding the most efficient way to reach multiple destinations.
After opening the app the first thing you'll need to do is add new stops. The app integrates with Google Maps to help you locate your desired destinations. You simply add the address and then give it a title, for example "office" or "job #1". Once you've entered in all of your stops, you then select your Navigation app (Google Maps, Apple Maps) and hit the 'Navigate' button. MyRoute opens up the relevant mapping application and charts the best course to that destination.
After embarking on your trip you can use the MyRoute app to make adjustments on-the-road. You can skip stops, add new ones or change-up the order of the destinations if your priorities change during the day.
MyRoute is a free download on the App Store and is well worth a try, particularly if your job or company is frequently on the road.
MyRoute requires iOS 6.0 or later. Compatible with iPhone, iPad, and iPod touch.