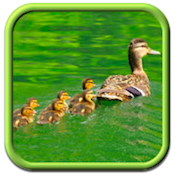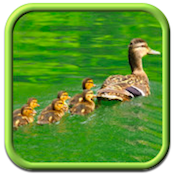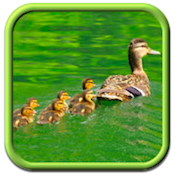 Price: $2.99     Score: 9/10     Category: Education
Natural Tots, developed by One Monk Clapping, is the modern way to entertain your baby. Forget the outdated mobiles that hang over baby's crib or the grubby little picture books. Natural Tots for iPhone and iPad is a wonderful way to entertain and amuse a baby, toddler, or young child.
When a baby's finger brushes across the touchscreen in Natural Tots, an image emerges of a peaceful nature scene. Think of it as a family-friendly scratch ticket. The gray color is wiped away with every touch, revealing the hidden nature image. As the image dissolves away, leaves, bubbles, and vines swirl across the screen.
Natural Tots is truly stunning, and utterly engaging. The baby doesn't need to constantly touch the screen for Natural Tots to reveal its hidden images: each touch generates some momentum, which builds and help to reveal the whole image.
One small issue is the occasional lag between the final reveal of one image and the switch to a new image that needs to be scratched away. The lag is alright for babies and toddlers who have slower reaction times, but older kids who like playing with Natural Tots may get bored or frustrated. However, there's a good reason for that lag: this is where Natural Tots places some cool audio elements.
All the while, Natural Tots plays soothing music and sounds that really help to complete the user experience. In a cool and unexpected twist, a simple phrase about each image is spoken after it has been totally revealed. This helps tiny tots with basic language skills, and also educates them.
While the image library seems pretty limited for the price point (just 18 images), Natural Tots for iPhone and iPad offers an engaging, beautiful app that can help little ones to build motor skills.
Natural Tots is compatible with iPhone 3GS, iPhone 4, iPhone 4S, iPod touch (3rd generation), iPod touch (4th generation) and iPad. Requires iOS 4.0 or later. A small expedite fee was paid by the developer to speed up the publication of this iPhone app review.