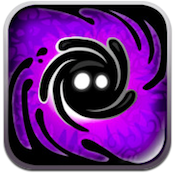 Price: $2.99 Score: 9/10 Category: Games
With all the candy-colored mobile games that litter the App Store, it's always refreshing to see something that's a little more dark, atmospheric, and unique.Nihilumbra, developed by Beautifun Games, is definitely one of those games, and it's a welcome respite from some of the more family-friendly, mainstream games on offer.
That's not to say that Nihilumbra isn't family-friendly. Despite the darkness of the world, the game does have a 9+ rating, meaning it contains infrequent mild cartoon violence. In other words, nothing too shocking for your kids.
Nihilumbra feels like a cross between the visual style of the Xbox game Limbo and the eerie, entrancing onscreen text of Superbrothers: Sword & Sworcery.
Before you start, you are given a chance to pick your character name and control style: you can use either the onscreen controls or the tilt controls. Both are viable options, with the onscreen controls being slightly tighter and the tilt controls being a little more immersive.
You play as a little black blob (called Born by the designers.) You need to navigate the dark, creepy world around you by running, jumping, and generally trying to escape the existential void that serves as the antagonist.
Despite the dark palette of the game, you do eventually learn to use colors to change the physics of the game. Once you master these powers, you will finally reach the end (and the secret surprise!) And all the while, you get to enjoy the unique soundtrack, which is a real treat.
Nihilumbra should take you about 10 hours to complete, but it's pretty clear that players will be itching to play it all over again just as soon as the first playthrough is complete. As for myself, I can't wait to spend some quality time exploring Nihilumbra over and over again.
Nihilumbrais compatible with iPhone 3GS, iPhone 4, iPhone 4S, iPod touch (3rd generation), iPod touch (4th generation) and iPad. Requires iOS 3.1.3 or later.