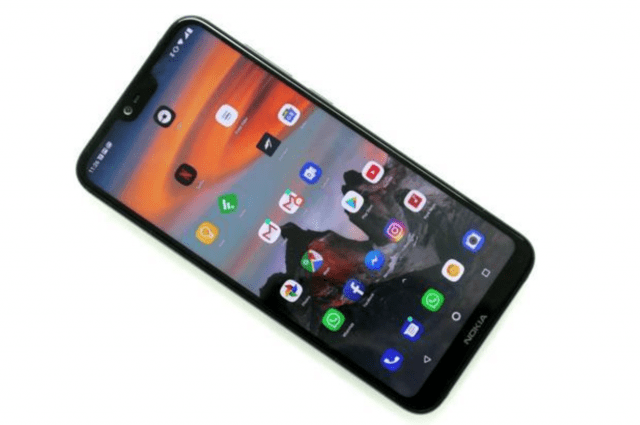 After a massive relaunch of Nokia, they came up with some noticeable changes in their products which actually diverted a massive number of people's attention.
Soon, Nokia launched the Nokia 6.1 Plus which is undoubtedly Nokia's flagship smartphone.
At the first impression, The Nokia 6.1 Plus looks like a premium smartphone launched by Nokia. It features an aluminium body frame for rigidity with glass coating on both the sides – the rear and the front. There is a notch clearly seen, on the top-mid of the display with noticeable borders covering all sides of the display and the Nokia branding on the bottom. The design is well planned keeping a wide screen and curved edges. Nokia focuses on keeping its smartphone pocketable and compact. However, due to the length, single-hand use is quite tough.
Nokia 6.1 plus has a beautiful 5.8-inch HD+ display which comes with a 19:9 aspect ratio and Corning Gorilla Glass 3 protection. The gorilla glass protection is an additional feature that has been provided. The Nokia 6.1 Plus smartphone has a 2.5D curved screen which is resistant to scratches.
The notch on the top of the screen consists of a 16MP camera sensor with f/2.0 aperture and 1.0-micron pixel size. It also consists of speakers and sensors.
The front facing camera plays its role quite well with 16 MP. Even in low light situations, the resulting images are pretty good and you'll definitely like the output. The front camera also supports portrait mode. You also get some cool features like Auto HDR, picture-in-picture mode, and few more add-ons that will delight the selfie lovers.
Nokia launched its 6.1 Plus Flagship smartphone in 3 different glossy colour variants and they are – Glossy White, Glossy Midnight Blue, and Glossy Black.
With no doubt, the smooth glass back looks absolutely attractive and classy but picks up a lot of fingerprint smudges. Due to its glossy surface, it's incredibly slippery – it doesn't give you a firm grip.
I'll suggest to get a Nokia 6.1 plus cover to get the firm grip and to protect it from any accidental drop.
The border around the back camera module, power button, fingerprint sensor and volume buttons enhances the feel. There might be few misconceptions regarding the design and build of Nokia 6.1 plus, however, in the end you will realise that the quality is quite good. We had some reservations about the build quality of Nokia 6.1 plus but it stands up for daily use.
On the left side of the Nokia 6.1 Plus, there's an opening for the SIM tray, which gives you an option between a microSD card and a second Nano-SIM. On the other side of the Nokia 6.1 plus, they have carved the volume rocker and the power button which are chunky, tactile, and well within reach.
The Nokia 6.1 plus comprises of dual cameras housed in a pill-shaped construction, underneath which there is a rounded fingerprint sensor. A vertically oriented Nokia branding can be seen just below the fingerprint sensor. Coming to the bottom, there is a solo loudspeaker along with the USB Type-C port. The sound delivery of the speaker is appreciable and it delivers clear and loud sound.
Crust Nokia 6.1 Plus cover are ergonomic designed with Tactile metallised buttons provides easy access and are responsive, wide cut-outs lead to a stress-free entry to all ports, buttons, and other features.