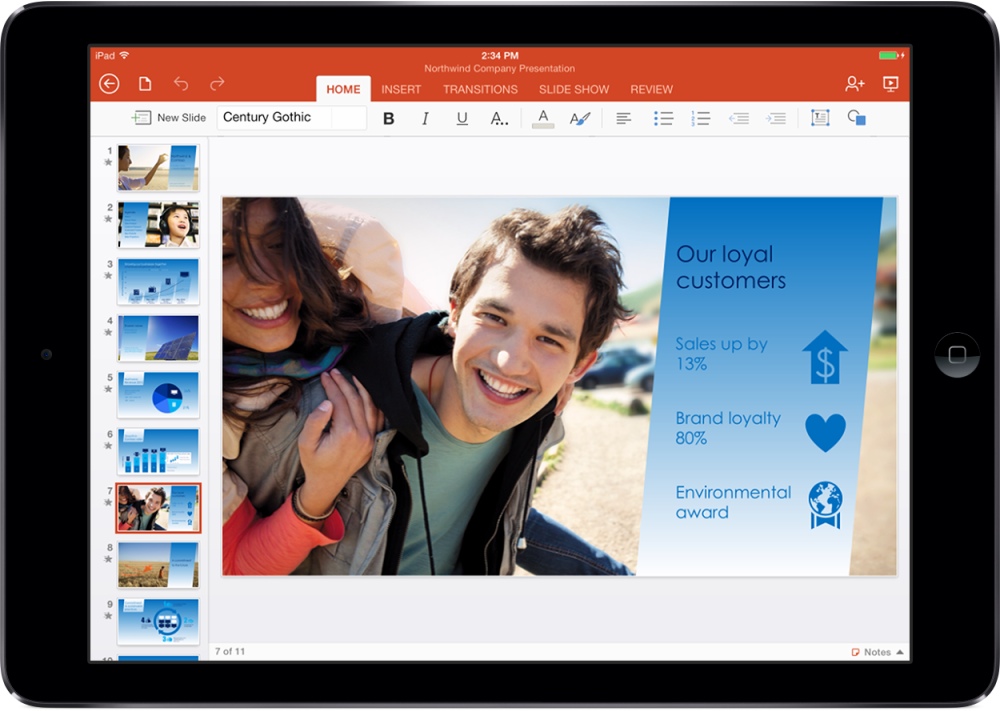 A long time coming, but the wait is finally over. Satya Nadella today formally introduced and shipped Office for iPad. While the read + present version is free to all, the ability to create and edit Word, PowerPoint and Excel documents requires an Office 365 account.
"Microsoft is focused on delivering the cloud for everyone, on every device. It's a unique approach that centers on people — enabling the devices you love, work with the services you love, and in a way that works for IT and developers," said Satya Nadella, CEO, Microsoft.
And, now that Steve Ballmer is no longer in charge, "the devices you love" includes the iPad. A theme explored by Wired in their Office for iPad coverage.
Office for iPad for Real


Now your Microsoft Office documents look better than ever on iPad! The Word, Excel and PowerPoint apps have the familiar Office look and feel along with an intuitive touch experience, so you'll be up and running in no time. When you edit a document on the iPad, you can be sure that you won't lose any content or formatting.
As alluded to in the lede, Office for iPad apps — Word for iPad, PowerPoint for iPad, Excel for iPad, OneNote for iPad — are all free with functionality limited to reading and presenting documents. The ability to create, edit and share Office for iPad documents requires an Office 365 subscription, which sells for $9.99 a month or $99.99 for a full year.
Welcome to the #iPad and @AppStore! @satyanadella and Office for iPad

— Tim Cook (@tim_cook) March 27, 2014
Of course, once you have paid the admission fee, Office 365 is available to you on your Mac/PC, and a range of other devices, essentially anywhere there's an internet connection. Your 365 sub also nets a OneDrive account for storing, transferring, sharing, etc your stuff with friends, co-workers, etc.
There is value, especially if you're a cubicle monkey, packed into Office 365 and the Office for iPad apps. However, for the growing number of contract, freelance and otherwise unattached workers of the world, Office is an idea whose time is either passed or available cheaper/free elsewhere…
What's your take?
Via USA Today