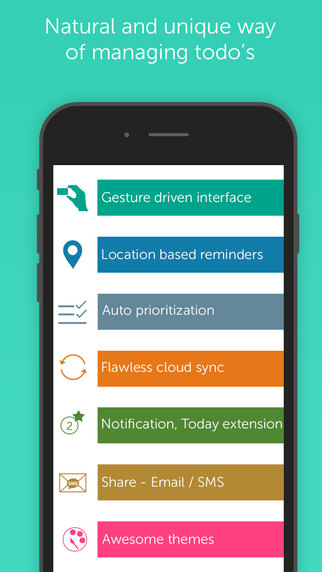 [app url="https://itunes.apple.com/app/orderly/id506632088?ls=1&mt=8″]
Introduction
Hey people, how are you today? Are you perhaps a bit flustered or unorganized? If so, we're reviewing an app that might very well help you with these issues. Today we're reviewing Orderly for the iPad and iPhone by Tekton Technologies, a beautifully designed app with one straightforward goal in mind—to help you get organized of course!
Organizing the chaos
Using Orderly for the first time was immediately a great experience, because of its easy use and great features. In just a few minutes I was setting up grocery lists, social events and more with just a few taps of my finger. What I really liked is how Orderly has an auto-prioritization feature, helping you out flawlessly with setting up your most important things at the top.
There's much more to Orderly, though. First of all there is its great user interface that is tweak able with all kinds of colors and fonts helping you distinguish between chores and appointments and there are even location based reminders helping you remind of them when you get close.
Sharing your information and chores is also done very easily, with a flawless Cloud Sync feature and options to send your lists over phone messages and e-mail. Orderly basically has everything you need for organizing your stuff, it acts as an agenda and much more and does so in an excellent fashion.
Of course the downside of it all is that if you have  an agenda already set in your phone or you actually still use a real one there isn't much use for Orderly. The market is already flooded with these kind of apps too so it's up to you which one you prefer. I can say, however, that Orderly is among the most clean and fresh ones I've come across and if you're still looking for a tool like this you won't regret using Orderly.
Conclusion
Orderly is an amazing tool for professionals, students and even moms alike. Making custom lists and setting up events is done swiftly and with amazing ease and I congratulate Orderly on that. I also found Orderly quite fun to use, playing around with my own set of colors for events  making it much more of a personal experience. If you're still looking for a great app to help you get your life organized than you should definitely check Orderly out. You won't regret it, I'm sure!
Orderly requires iOS 8.0 and is compatible with iPhone, iPad and iPod Touch