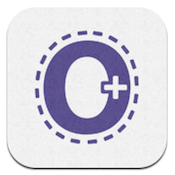 Price: $14.99 Score: 9/10 Category: Productivity
Outline+, developed by Gorillized, has been getting rave reviews from iPad fans and productivity hackers alike. The App Store page for Outline+ sets the bar pretty high by including this quote from a CNET review: "Outline+ is the OneNote app for the iPad that OneNote should have been in the first place."
It's not just hype: Outline+ is insanely sleek, very flexible, and chock-full of functionality. Outline+ is an iPad app that offers the ability to read and edit Microsoft OneNote documents easily on your iPad.
It's almost unnerving how effortless the editing process is with Outline+ on the iPad: even without any prior experience using OneNote in any form, Outline+ is designed so thoughtfully that it is really easy to find your way around and makes the changes you want.
Outline+ makes it easy to jot down ideas, build a concept map, create to-do lists, and more, right on your iPad. It's also very easy to search all your content and sync it with OneNote via Dropbox or iTunes.
The latest update (Version 2.1) came out on September 13. In addition to some minor bug fixes and general improvements to Outline+'s stability, this update includes the following adjustments:
– Mutli-level lists. You now can change indentation level in numbered and bulleted lists to create perfect outlines. Use the new additional buttons (tab and back-tab) on the on-screen keyboard or Tab button on wireless keyboard.
– App is now smart enough to convert symbols like "-" or "1." into bulleted or numbered lists automatically.
– Added TextExpander app support for even faster note-taking.
Final word: If you want OneNote support that's easy on the eyes, take the plunge and invest your cash in Outline+ for iPad. Whether you're a student or well-established in your career, Outline+ is absolutely worth the $15 for people who want a better OneNote solution.
Outline+is compatible with iPad. Requires iOS 5.0 or later. A small expedite fee was paid by the developer to speed up the publication of this iPad app review