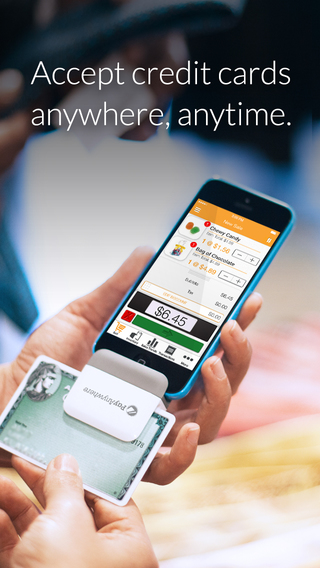 These days the importance of mobility is staggering. We want to go everywhere and have grown accustomed to the greatest comfort of doing so with technology at our finger tips. We text, tweet and Facebook on the go and feel less obliged to work from a single location now that we have access to almost anything everywhere.
Buying and selling through the internet is still booming and while we slowly transition from using physical money into the digital currency it was only a matter of time before there would be a solution to pay on the go and wherever. PayAnywhere by North American Bancard is this solution and it works wonders.
Using PayAnywhere
PayAnywhere, not only available for iPhone and iPad but for Android devices as well, allows you or your business to accept credit card payments on the go. You purchase a card reader switfly attachable to your devices and are set up to start making transactions with the app.
The best thing about PayAnywhere is that it doesn't come with a monthly fee and live customer support is accessible at all times. At just a low rate of 2.69% per swipe PayAnywhere allows Visa, MasterCard, American Express, Discover and Paypal transactions everywhere.
The app comes with a complete toolset for your business as well. From organizing gadgets to color changes to your interface and from automatic tax calculations to (custom) tips planners. You can even customize the receipts that are send to your customers and a feedback tool that gives you insights to what is selling well and what isn't.
What did we think about it?
PayAnywhere is the app that was needed in current times and it fills the gap professionally, stylefully and most of all its user-friendly. It's not only a convenient tool for buyers and sellers alike but a complete workstation for businesses and entrepreneurs, showing them new insights and giving out a helping hand to the world of the digital currency.
Whether you just need that extra flexibility with payment for your customers or just want to offer a custom way of dealing with tips in a restaurant, the reasons to use PayAnywhere are endless and with an incredible compatibility across both iOS and Android devices it could very well be an early glimpse into the future of market trends and internet sales. If you're looking for new ways to boost your transactions this might very well be a great app to try out.
PayAynwhere requires iOS 7.0 and is also compatible with iPad