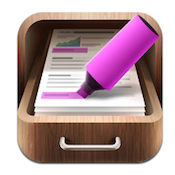 [app id="518983747″]
PDF Cabinet is a relatively new iPad app developed by Com Tec Co Limited. PDF Cabinet includes the essential features for PDF reading, review and annotation. Additionally, the developers state that the app "makes everything simple again, just like with real paper. Only much better." Do their claims stack up?
In a word, yes. This is a beautifully designed app that is intuitive, and very much like working with paper (but without the drawbacks.) One really smart addition make in the most recent update is an adjustment which ensures that the pencil tool will automatically change its scale depending on the current zoom level, allowing more precise annotations.
The App Store description for PDF Cabinet notes that PDF Cabinet is the first app for PDF reading and annotation that was designed from scratch to allow you focusing on your documents and not thinking about how the application works. There are very few pesky, confusing buttons. It's the kind of PDF iPad app I'd recommend to my mom, but that I would also love using myself.
Able to sync with iCloud and Dropbox, PDF Cabinet is ideal for sharing. The annotations you make in PDF Cabinet show up in any other PDF reader. If your whole team has PDF Cabinet, you can send just the annotations to other PDF Cabinet users to save time. You can transfer documents between Cabinet users via Wi-Fi or Bluetooth, or collaborate in real-time with your friends or colleagues (assuming you all have iPads, that is.)
Not surprisingly, PDF Cabinet is a bit on the bulky side. If you prefer iPad apps that run a little more towards a lean, small footprint, the 35.8 MB download size might be a bit much for you.
However, with such solid functionality and smooth operation, PDF Cabinet is worth the space. Future updates are said to include automatic conversion of DOC, PPT and RTF files to PDF. For such a new app, PDF Cabinet shows real promise and truly unique design.
SCORE: 9/10
PDF Cabinetis compatible with iPad. Requires iOS 5.0 or later.