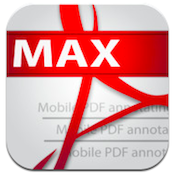 Price: Free Score: 9/10 Category: Productivity
PDF Max, developed by Mobeera, claims it can help you to annotate and sync files like never before. And while PDF Max for iPad isn't perfect, it is absolutely a robust, easy-to-use tool.
I've played around with quite a few mobile PDF readers and annotation apps at this point, and PDF Max scores big points for blending an easy to navigate system with the most impressive array of annotation tools I've seen crammed into a single iPad app.
In addition to drawing shapes and images with your fingertip, it's also possible to attach sound records into the finished PDF, which is pretty darn cool. PDF Max also gets big points for being the only iOS PDF application at this time that supports Rich Text Format Typewriters from Adobe® Acrobat®.
PDF Max allows users to download PDFs and .zip files from iTunes, Dropbox, and any web site using a built-in browser. After annotating, PDFs can then be uploaded to Dropbox or shared via email.
A few downsides and caveats: the developers are the first to admit that PDF Max can sometimes run very slowly on a first gen iPad.
The App Store page also notes that upgrading to the Professional version has been causing crashing issues, but the developers are working hard to correct this. However, that means that, for the time being, the ability to upgrade and unlock the paid features has been disabled.
One final caveat: the developers also state on their App Store page that PDF Max's free features can be changed at any time without notice.
But despite these relatively minor issues, PDF Max is a fairly solid tool for reading PDFs and annotating them on your iPad. If you can look past its unique flaws, PDF Max is worth playing around with for free, and upgrading to the paid version if you like what you see.
PDF Maxis compatible with iPhone 3GS, iPhone 4, iPhone 4S, iPod touch (3rd generation), iPod touch (4th generation) and iPad. Requires iOS 5.1 or later.