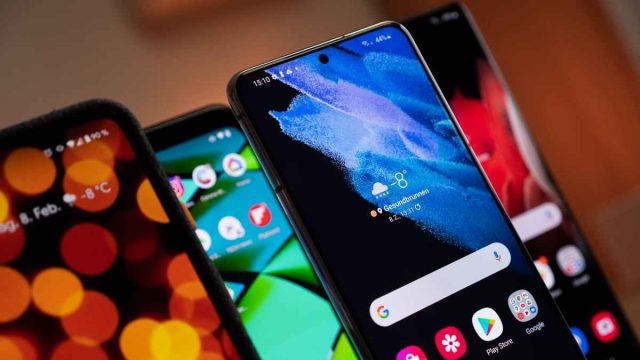 Every smartphone today is arguably a gaming phone that you can use to play thousands of high-quality games. But what about players looking for the smoothest and most immersive smartphone gaming performance? Or those who want a display with high refresh rates? We've got you covered. Here are the best smartphones that will take your gaming experience to the next level, giving you faster and better gameplay.
The best Gaming Smartphones
1. Asus ROG Phone 6 Series
The Asus ROG 6 comes in two variations, with the ROG Phone 6 Pro being the better version. The ROG Phone 6 Pro was built with the gamer's needs in mind, featuring a wide 6.78-inch screen with a 165HX refresh rate. The ROG Phone 6 also has a massive 6,000mAh battery and excellent performance thanks to the latest Snapdragon chipset with 18 GB of RAM.
This cutting-edge smartphone comes with ultrasonic air triggers, fully customizable in button mapping and sensitivity. It also has various accessories to take your gaming experience to the next level, including the ASUS Aero Active Cooler 6, which cools down your handset while playing games for hours.
The other smartphone in this series is the ROG Phone 6, which looks similar to the pro model. The main difference is that the ROG Phone 6 comes with 16GB RAM and doesn't have a secondary rear display that can display time, logos, text messages and other simple things. However, the two phones don't support wireless charging and have an iPX4 waterproof rating.
2. Nubia Red Magic 7
If you want a gaming smartphone that will allow you to access online gambling Canada real money and other games without breaking the bank, the Nubia Red Magic 7 is all you need. This gaming smartphone comes with a sophisticated Snapdragon 8 Gen 1 chipset, with 16 GB of Ram, Shoulder triggers, active cooling and a high-speed 165HZ Amoled display.
The phone's active cooling feature is a major upgrade from last year's Red Magic 6, making its heat absorption and dissipation 400 times better. Most importantly, it costs less than most of its competitors, with specs that exceed your expectations.
3. Black Shark 5 Pro
With a Snapdragon 8 Gen 1 processor, the Black Shark 5 Pro can handle any mobile game on the market. It features 18GB of RAM, with dual liquid cooling plates that come with an anti-gravity feature that helps improve the liquid cooling circulation.
The phone's 5G antenna, battery and processor are directly connected to its cooling plate through a copper alloy design. That provides superior heat absorption and keeps your device cool enough to operate at peak performance. It also sports magnetic triggers to give players a tactile controller feel instead of relying on the on-screen controls.
You can use the Black Shark 5 Pro to play games for hours as it packs a 4,650mAH battery and a 120W charging pot that fully charges it within 15 minutes. Other important gaming specs include a large 6.67-inch display that has a 144HZ refresh rate, a fingerprint scanner and three rear cameras.
4. OnePlus 10 Pro
OnePlus is among the best gaming smartphones, and for good reasons. Their smartphones may not always offer the same value as their competitors, but they combine great hardware with responsive software in a design that's sure to impress.
Released in 2022, the OnePlus 10 Pro is an improvement from the OnePlus 9 Pro released in 2021. This smartphone also features the cutting-edge Snapdragon 8 Gen 1 chipset with 12GB of RAM and an impressive 120Hz AMOLED display.
Like other smartphones using the Snapdragon 8 Gen 1 chipset, the OnePlus 10 Pro might run hot when playing games. That might reduce your battery life, but there's a fast charger to help you recharge it. Additionally, OnePlus announced the charging speeds might be lower in the US than in other countries.
5. Samsung Galaxy S22 series
While Samsung's 2022 flagship mobile phones aren't advertised as gaming smartphones, they're true powerhouses that give gamers what they need in a smartphone. This lineup includes the Samsung Galaxy S22, the Galaxy S22 Plus and the Galaxy S22 Ultra.
All the three smartphones in his series offer the latest specs, including Snapdragon 8 Gen 1, 120HZ AMOLED displays and excellent battery life. Obviously, the Galaxy S22 ultra is the best smartphone in the series, featuring an extremely versatile camera and S-pen support. However, Samsung decided to integrate the S-pen into the device's body.
Besides their sophisticated hardware, these three models feature Samsung's Game Tools and Game Launcher options to allow you to tweak the performance of specific games. This Game tools suite helps you to take screenshots, adjust resolution, record videos and more. However, these phones aren't cheap.