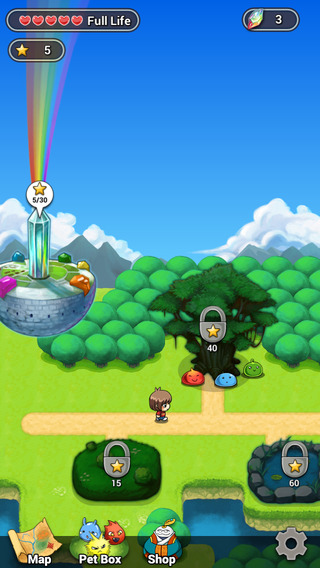 [app url="https://itunes.apple.com/us/app/rainbowtail-match-3-rpg-pet/id989625753?&mt=8″]
Introduction
Rainbowtail is a fun and completely innovative game from MINIDRAGON games. The concept is surprisingly simple for such an addictive little app: match up three or more gems to create matches, score points and win the level. Sounds familiar? Well, this isn't your run of the mill matching puzzle game. There is certainly more to this RPG meets Puzzler adventure than meets the eye.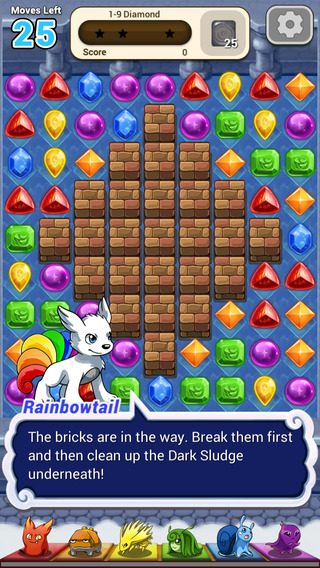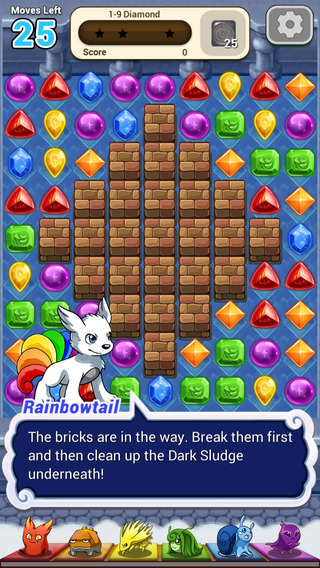 What does it do?
Rinbowtail is a clever mix of role playing and puzzling, which it achieves through its added dimension of 'collecting' pokemon-like creatures called 'Pets'. Each pet can be collected either by purchasing an egg through the game – which is where the 'freemium' part kicks in – or by randomly earning the eggs throughout levels and gameplay. Each egg contains a pet with a varying level of rarity and, accordinly, ability. The pets will then join your team and help you to use bonus attacks on the gems on each level, helping to clear the sludge and smash your way to the best total score. The pets also levelk up as you feed them gems, giving the player reason to go back and complete levels many times over in order to collect both gems and stars to help them progress to other worlds.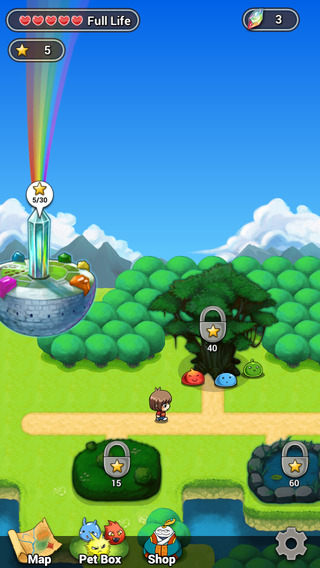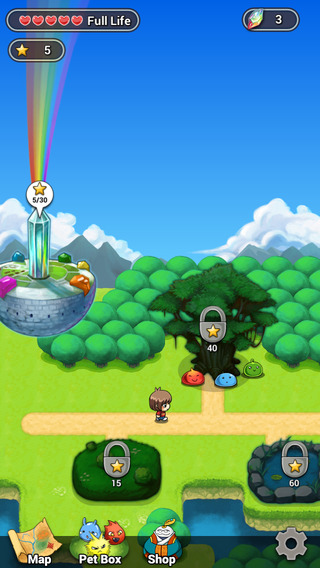 The game has a solid storyline revolving around these pets, which involves an evil pet – Darktail – who is ruining the quirky and brightly animated countryside with his 'sludge'. On each level, the player is given a challenge of either clearing the sludge or achieving a certain number of points in order to prove themselves. At the end of each world there is a boss level – a golem who believes you are responsible for releasing Darktail and ultimately wants to arrest you. The game itself can be a little more difficult than most players may be used to at first – the crux of the game lies with collecting and evolving your pets, which does make the game a whole lot easier. It's a steep learning curve.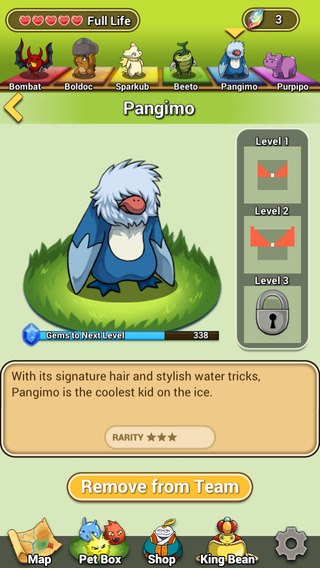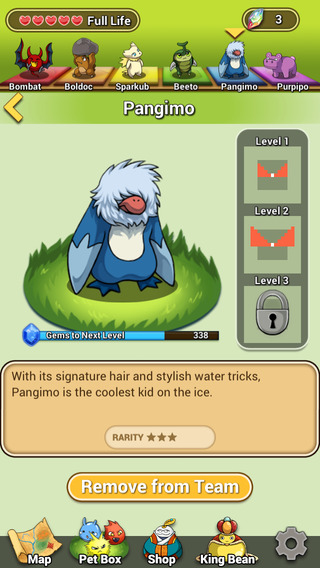 Tapscape's Final Thoughts
Rainbowtail is a game that combines the best elements of puzzling and RPG to produce something really unique and special. The gameplay and storyline are beautifully accented with great graphics and a fun and nostalgic soundtrack that hails back to classic games such as Pokemon and Super Mario. The built in system of spending is well thought out and fits in with the overall aesthetic instead of jarring the player into the reality of spending money – without forcing the player to need to spend any. Overall, Rainbowtail is a fun and well thought out game that deserves a download today.